Councils have been given Government backing to strip dangerous Grenfell Tower-style cladding from private residential buildings above 18 metres.
A ban on using combustible cladding on new high-rise homes – as well as schools, care homes and student accommodation – will come into force on December 21.
New regulations drawn up following a lengthy consultation in the wake of the disaster were laid before Parliament on Thursday.
The ban covers all combustible materials on the external walls of new blocks of flats above 18 metres, as well as new hospitals, care homes, boarding school dormitories, student accommodation and Government-built schools above the same height.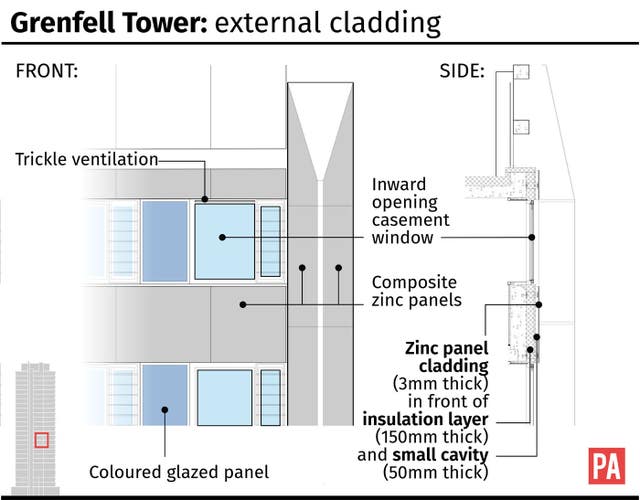 The Government is already undertaking a £400 million programme to remove similar materials from all high-rise social housing in England.
It is now giving local authorities its backing, including financial support,  to carry out emergency work on private residential buildings with unsafe cladding.
They will recover the costs from building owners. This will allow buildings to be made permanently safe without delay.
They will be able to recover the costs from the owners of the buildings, the Government said.
Mr Brokenshire said: "Everyone has a right to feel safe in their homes and I have repeatedly made clear that building owners and developers must replace dangerous ACM cladding. And the costs must not be passed on to leaseholders.
"My message is clear – private building owners must pay for this work now or they should expect to pay more later."
A total of 457 high-rise buildings in England had been found to have unsafe ACM cladding by October 12, according to Ministry of Housing, Communities and Local Government data.
They include 157 social residential buildings and nine publicly owned buildings, as well as 291 private sector buildings, including flats, hotels and student accommodation.
Cladding has so far been removed from just 39 buildings, including 22 social sector high-rise buildings, and 17 from the private sector.
In the social sector, the Government said work has started to remove cladding from 98 buildings, while plans are in place for another 33.
Work has started on 21 private buildings, with plans in place for 92 others, according to the latest data.