Theresa May has warned Brussels she will not sign up to a Brexit agreement "at any cost", amid signs of further rebellion among her senior ministers.
The Prime Minister will hold a Cabinet meeting in Downing Street on Tuesday after using a London speech to say she "will not compromise" on what people voted for in the 2016 referendum.
Ms May used her annual address to the Lord Mayor's Banquet to say that while talks with the European Union were approaching "the end game", there were "significant" issues that continue to block the path to a deal with Brussels.
Her comments seemed to extinguish hopes that the Cabinet might sign off a deal on Tuesday.
Half a dozen Brexiteer ministers including Brexit Secretary Dominic Raab and Environment Secretary Michael Gove are due to tell Mrs May that leaving without a deal would be better than the proposals on the table from Brussels, the Daily Telegraph reported.
It said they met for drinks at International Trade Secretary Liam Fox's office on Monday night to discuss their concerns.
Mrs May told the audience at Guildhall in London that while both sides wanted a viable withdrawal agreement, "what we are negotiating is immensely difficult".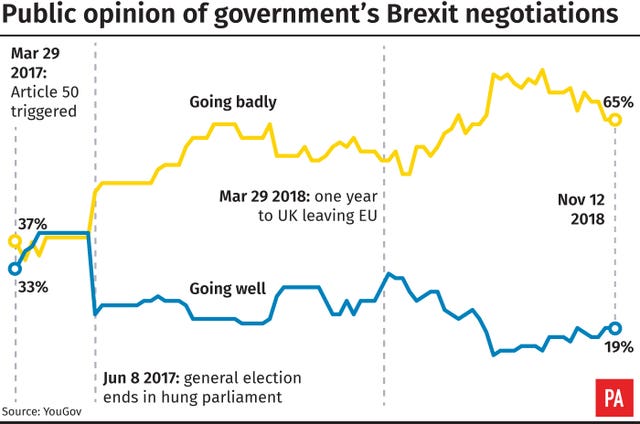 "I want them to know that I will not compromise on what people voted for in the referendum. This will not be an agreement at any cost."
She repeated her assertion that a deal must give the UK control of "our laws, borders and money", plus the freedom to strike trade deals while protecting jobs, security and the Union.
Jo Johnson, brother of former foreign secretary Boris, left his role as transport minister over Mrs May's Brexit plans.
Writing in The Times, he said what was being offered was a false choice "between vassalage and chaos" and backed the campaign for a People's Vote, while former Brexit secretary David Davis wrote in the Daily Telegraph that Baldrick from Blackadder would "blush" at the "false dichotomy" between Chequers and no deal.
Mr Johnson said: "We're today in the extraordinary position where even the staunchest advocates of Brexit, including my brother Boris, publicly admit we'd be better off staying in the EU than with the PM's deal."
"That's why the argument the government will present for its hopeless package is not that it is better for Britain than our current membership.
"The only case she (Mrs May) can try to make is that it is better than the alternative of leaving the EU with no deal at all. Well, that's a low bar indeed.
"How have our ambitions for our country fallen this far this fast? We can and must do better."
Both the EU and UK sides had earlier said issues remained to be settled despite weekend talks that went on into the early hours of Monday morning.
Downing Street said reports that Brussels' chief negotiator Michel Barnier expected the "parameters" of a deal to be presented to ministers for approval at their regular weekly meeting should be taken "with a bucket of salt".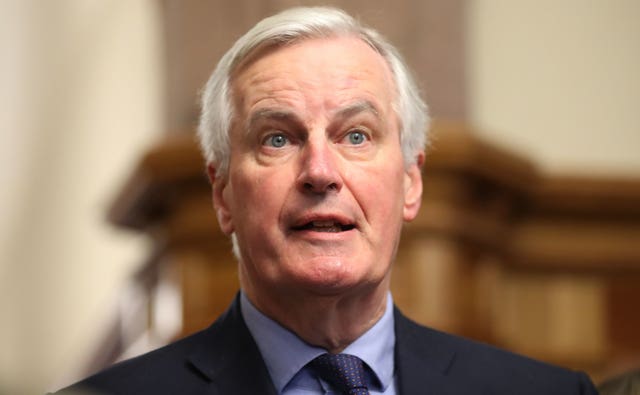 In a move that could either provide a boost or an additional headache for Mrs May, senior EU officials are due to discuss whether UK citizens should be required to obtain a £52 (60 euro) visa to enter the EU after Brexit.
The college of commissioners will meet in Strasbourg where they will receive an update on Brexit negotiations from Mr Barnier.
But also due to be on the agenda is whether Britain should be treated as a "third country" whose citizens would require a permit to visit the continent.