The European Union has been urged to remain "steadfast" over its guarantees to Northern Ireland by pro-Remain parties.
Senior figures from Sinn Fein, the SDLP, Alliance and the Greens said Brussels must remain firm in demanding a permanent "backstop" arrangement which would keep Northern Ireland aligned with the EU.
But at a cross-party press conference in London, Sinn Fein vice president Michelle O'Neill said: "The backstop needs to be permanent, the backstop is the only guarantee we have in this debacle, the only insurance policy we have throughout all of the Brexit mess.
"Our message is very firm: there can be no backtracking from that position on the backstop that Theresa May and her Government signed up to in  December last year."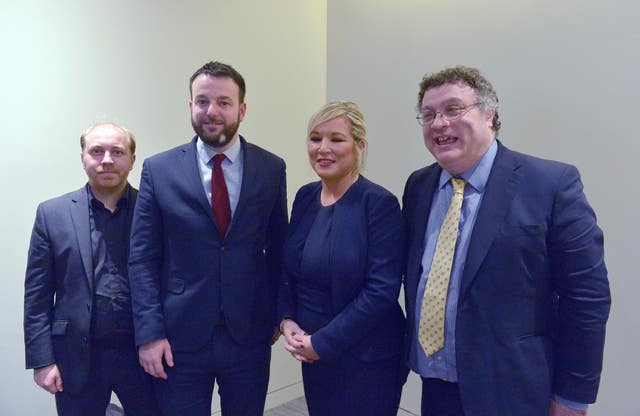 "There are still anti-peace process elements in society and any erection of hard borders on the island of Ireland will bring unwanted attention," she said.
"While I am very cautious not to over-egg that, I think it is important that people understand that's exactly what potentially could happen."
She said that was why the backstop had to be "legally operable" and remain in place "unless and until something else comes along" which could prevent a hard border.
"We are very much looking towards the EU to remain steadfast in the position which they have adopted, and that we hold the Irish Government to account for their role in all of that as well."
The Brexit process, and the "toxic" alliance between the Conservatives and DUP, had contributed to progress made in the Good Friday Agreement being "thrown under the bus", Ms O'Neill said.
SDLP leader Colum Eastwood told the news conference: "We have spent an awful lot of time trying to build the progress that we now have, the stability that we now have.
"Brexit has been like bomb going off in the middle of that stability."
He added: "We have to ensure that the backstop is supported and protected in the withdrawal agreement.
"There will not be a withdrawal agreement unless there is a backstop, a permanent one.
"There is no point having a temporary backstop. The backstop is there as our insurance against big mistakes being made by a future British government."
The pair, along with Northern Ireland's Green Party leader Steven Agnew and the Alliance's Stephen Farry, were using the visit to London to meet leaders of Westminster's opposition parties.
But they complained that Mrs May had refused to meet them jointly.