British troops have hailed a massive military exercise in Norway as hugely beneficial to young soldiers who never fought in Afghanistan or Iraq.
More than 2,330 UK personnel, plus hundreds of vehicles including Foxhounds and Jackals, seven ships and Hawk jets, are in Norway to take part in Trident Juncture.
Nato's biggest exercise since the end of the Cold War, it involves more than 50,000 troops, 65 ships, 10,000 vehicles and 250 aircraft from all 29 member states of the alliance and partners.
Lieutenant Colonel Caroline Lewin, the commanding officer of 2 Signal Regiment who is currently based at a multi-national brigade headquarters in Akrestrommen led by the Army's 4th Infantry Brigade, said the exercise is beneficial.
"There will be soldiers and officers in this force who have learnt something and will take that forward to be better prepared for future eventualities of conflict," she told the Press Association.
"For young soldiers who didn't go to Iraq and Afghanistan, this is the first opportunity they have had to do that little bit of overseas expeditionary training that makes them feel like this could be real – and that is a great lesson."
The mother-of-two from York said that in the face of the current international threats, it is important for allies to work together, adding that exercising troops is the "only way to test those frictions".
The 36-year-old from Wigan said: "When we have worked in places like Afghanistan and Iraq, the more old and bold amongst us know how it works and how the integration happens.
"For the younger guys to see – the vast amount of nations out here and how they work together – I think that is really good for them."
He said so far during the exercise they have seen a "steady trickle" of patients with issues including non-freezing injuries, coughs, colds and the odd trapped finger.
Trident Juncture began last week in Norway – a country which shares a border with Russia – and comes amid rising tensions between the Kremlin and the alliance.
Based around a fictitious attack on Norway's sovereignty resulting in Article 5 of the North Atlantic Treaty being triggered, it is testing Nato's collective capacity and capability to respond.
Those taking part have been split into opposing northern and southern forces, with offensives and counter attacks being carried out across central Norway, the North Atlantic and Baltic Sea.
Lance Corporal Dean McGrady, of the reconnaissance platoon from the 1st Battalion Royal Irish Regiment, said so far they have been kept really busy during the exercise.
Asked if Trident Juncture feels realistic, he said they are dealing with a "thinking enemy", adding: "We are not getting told to 'come down this way', it is that we have to expect and adapt to it.
"It is a bit of a different exercise for us."
Captain Conor McCracken, commander of the 1 Royal Irish reconnaissance platoon said being integrated with the local population adds a "whole new dynamic" to the exercise.
"You can interact with them, whereas in a lot of other exercises it is role play… this is the best way to exercise I think – with the civilian population around you," he said.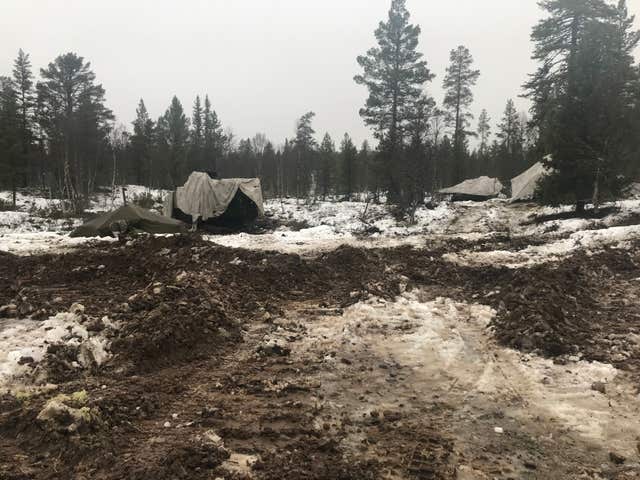 Praising the water and windproof Gore-tex tunics his troops have been issued with for Trident Juncture, he said: "This is actually the best bit of kit I have been issued with in the Army."