A ferry has run aground after it collided with several small boats due to bad weather in the Isle of Wight area.
The Maritime and Coastguard Agency (MCA) received reports shortly after 8am on Sunday that the Red Falcon ferry had collided with "at least two yachts" while trying to berth at the entrance of Cowes Harbour.
They have since confirmed there is nobody in the water or missing and they have made contact with the person who was initially crying for help, who is reported to be safe and well.
The coastguard said the person was on board his own vessel and was "crying out to try and alert the master of the ferry of the situation".
The Red Falcon has been refloated with the assistance of tugs, and surveyors from the MCA will make an assessment of the vessel.
Around 40 passengers and some 16 staff are still on board but are all safe and well, the coastguard said.
A coastguard search and rescue helicopter was initially deployed to the area but had to turn back due to low visibility caused by heavy fog.
The Red Funnel ferry company said there had been no injuries to any of the passengers onboard, or to anyone else involved in the accident.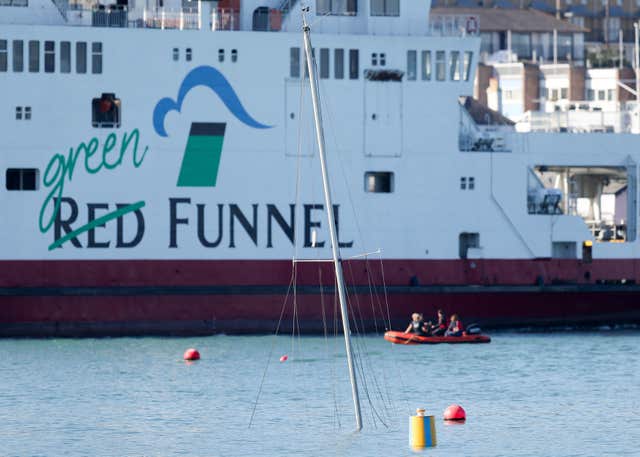 The company's website said services were suspended "until further notice" and apologised for any inconvenience to customers.
The UK Coastguard said that the Cowes RNLI lifeboat, Calshot RNLI lifeboats and coastguard rescue teams from Bembridge, Needles and Ventnor were involved in the "extensive search".