The acting Commissioner of the Metropolitan Police stayed in his car as terrorist Khalid Masood murdered an unarmed officer because he had no protective equipment, an inquest has heard.
Sir Craig Mackey, now Deputy Commissioner of Scotland Yard, had been to a meeting with Policing Minister Brandon Lewis and was being driven out of the Palace of Westminster when the carnage unfolded on March 22 last year.
Masood, 52, had mowed down pedestrians on Westminster Bridge before crashing his hired SUV into the perimeter fence near the Houses of Parliament, running through the gates and stabbing unarmed Pc Keith Palmer to death.
The inquest into his death heard that Sir Craig, then acting Scotland Yard chief, and his colleagues locked the car doors because they had "no protective equipment and no radio".
The officer told the jury how he had heard an "abnormally loud bang" that he feared was an explosion, before seeing Masood, with a butcher's knife in his hand, attack Pc Palmer.
"There was quite a lot of confusion about what was going on. Clearly the way that the male came in and the purposeful way he came, he was clearly a threat," Sir Craig told the Old Bailey.
The senior officer saw the constable suffer "two determined stab wounds".
He said: "I could see Pc Palmer moving backwards and him going down."
Sir Craig, who retires in December, went on: "The attacker had one of those looks where, if they get you in that look, they would be after you.
"He seemed absolutely focused on getting further down and attacking anyone who was in his way."
He told the jury: "The thing that still shakes me about the attack is that it was 80-plus seconds in total. It didn't feel like that, it felt an awfully long time."
Masood was shot by a close protection officer after killing Pc Palmer.
Asked what his reaction was following the gunshots, Sir Craig said: "First and foremost I was a police officer so I went to open the door to get out.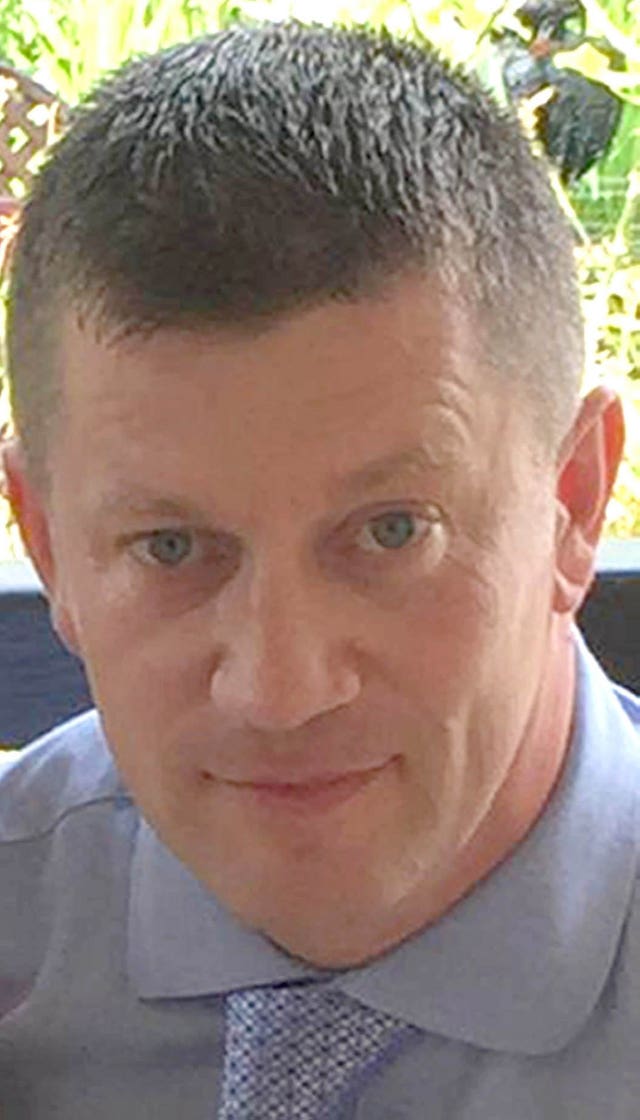 "That's when I thought: 'I have got to start putting everything we need in place. We have got no protective equipment, no radio, I have got two colleagues with me who are quite distressed,' so we moved out."
Sir Craig told jurors it was his "instinct" to get out of the car, but was in a short-sleeved shirt with no equipment following the ministerial meeting.
"I was conscious my two colleagues were not police officers. If anyone had got out, the way this Masood was looking, anyone who got in his way would have been a target," he said.
"I think anyone who came up against that individual would have faced serious, serious injury, if not death."
Masood, 52, killed four people on the bridge – American tourist Kurt Cochran, 54, retired window cleaner Leslie Rhodes, 75, Aysha Frade, 44, and Romanian tourist Andreea Cristea, 31 – and seriously injured 29 others.
Temporary Chief Inspector Paul Sheridan, an expert in training firearms officers, told the court it is "not like in films" when someone is shot.
In the first seconds after being hit, no blood may be visible and the person may not realise they have been shot, he said.
The jury was shown footage of Masood, armed with two bloodied knives, lumbering after officers as they fled following the attack on Pc Palmer.
Two close protection officers can be seen aiming their pistols before Masood crumples to the ground.
In Mr Sheridan's assessment, the use of lethal force by the marksman who shot Masood three times was "entirely justified".
Chief Coroner Mark Lucraft then told the jury the inquest will adjourn until Wednesday when the two close protection officers will give evidence.