Thousands of eager pilgrims set off well before dawn on Sunday morning to make the up to five-hour long journey from all corners of the island for the Papal Mass in Dublin.
The weather had not been kind to those who had planned ahead as rain poured from the early hours of the morning, and heavy winds whipped rain ponchos and pulled down hoods.
Many visitors said despite the weather and the long walk they wanted to show young people that faith is strong in Ireland, and to set an example for younger generations.
Therese McKernan, who set off at dawn via bus with her fellow parishioners from St Brigid's Church in Belfast, had been at Pope John Paul's Papal mass in Phoenix Park in 1979.
"I came here in 1979 for the last mass and it was a wonderful experience," she said.
"I had my tickets and bus booked ages ago, an event like this is too important.
"These things don't happen very often, a twice in a lifetime occasion in my case, but its important to set an example to young people in the family, to be part of this amazing community festival."
Youth worker Orlagh McGlade travelled to the Papal mass from South Armagh along with friends, both religious and secular.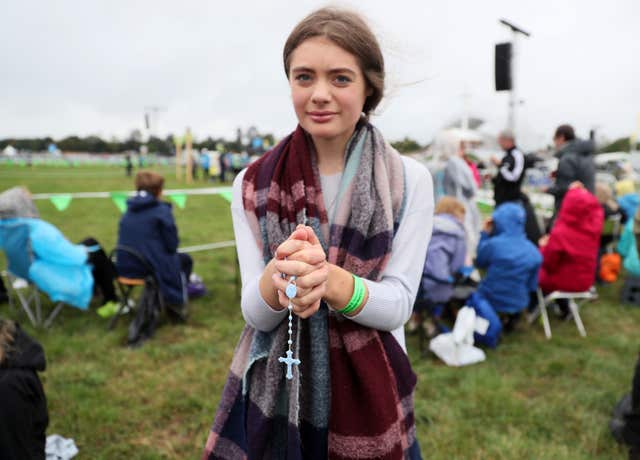 "It's just unreal to see everyone coming together, and sometimes you think the faith in Ireland has been lost but when you see everyone here today its clear the faith is still alive and well.
"I've worked in a youth ministry for years in a range of different areas, and I have a mix of friends, who have faith and who don't.
"I have secular friends as well, who are here today, to see the faith is normal and full of life and fun and that's what it's all about."
The McCorry family including a mother, six sisters, one husband and six children braved the elements in Phoenix Park – decked out with Vatican flags on picnic chairs.
"Most of us were here for Pope John Paul, and had to come down for this, I mean why would you miss this?
"I think its important for everyone that faith is still alive in Ireland and to let people know we're Catholics and we love our church.
"I attended Pope Benedict's mass in Rome, and I went to John Paul's funeral too.
"I love each pope as they guide the church in a different way, but Francis and his love for the poor, I love that about him."
Undeterred by the typically Irish weather, many pilgrims brought their own supplies with folding stools and flasks of tea proving the most popular accessory for the early attendees.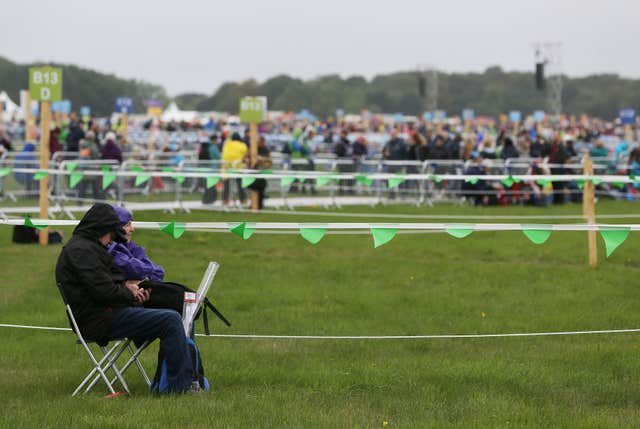 "We got a bus around seven this morning, we headed straight down the road with no stops," said Nicola Barker.
"We wanted to be here early, so we knew to pack lunches, we've plenty of tea, sandwiches and fruit.
"The weather hasn't bothered us at all, we wouldn't miss an event like this.
"Daniel O'Donnell is coming, we wouldn't miss it for the world.
"After the mass we're going straight home as we're all back at work tomorrow, we'll be back at work blessed tomorrow."