Ireland's premier Leo Varadkar has urged Pope Francis to listen to victims of clerical abuse as he called for zero-tolerance for those who target children.
In a speech in front of the pontiff inside Dublin Castle, the Taoiseach also said the past treatment of many women and young people by church and state had left a history of "sorrow and shame".
Following a private meeting with the pontiff, Mr Varadkar said: "In place of Christian charity, forgiveness and compassion, far too often there was judgement, severity and cruelty, in particular towards women and children and those on the margins.
"Magdalene Laundries, Mother and Baby Homes, industrial schools, illegal adoptions and clerical child abuse are stains on our state, our society and also the Catholic Church.
"Holy Father, I ask that you use your office and influence to ensure this is done here in Ireland and across the world."
He called for zero-tolerance for those who abuse children or those who facilitate the abuse.
"We must now ensure that from words flow actions," he added.
"Above all, Holy Father, I ask you to listen to the victims.
"The Ireland of the 21st century is a very different place today than it was in the past. Ireland is increasingly diverse.
"One in six of us were not born here, and there are more and more people who adhere to other faiths, or who are comfortable in declaring that they subscribe to no organised religion."
In reference to the recent Pennsylvania grand jury report which detailed the sex abuse of more than 1,000 children within the Catholic Church, Mr Varadkar added: "In recent weeks, we have all listened to heart-breaking stories from Pennsylvania of brutal crimes perpetrated by people within the Catholic Church, and then obscured to protect the institution at the expense of innocent victims.
"It is a story all too tragically familiar here in Ireland."
In May this year, Ireland voted by a landslide to change its near total ban on abortion, and in 2015 the country voted to legalise same-sex marriage.
Mr Varadkar told the crowd that families "come in many forms".
He added: "Holy Father, I believe that the time has now come for us to build a new relationship between church and state in Ireland – a new covenant for the 21st century.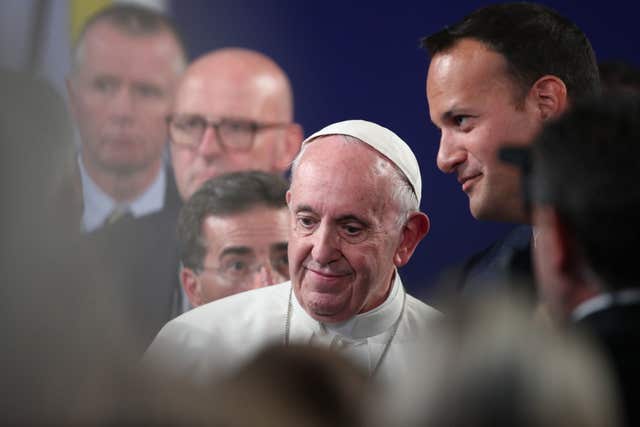 "Building on our intertwined history, and learning from our shared mistakes, it can be one in which religion is no longer at the centre of our society, but in which it still has an important place.
"One with greater diversity and choice when it comes to the patronage of our schools – and where publicly-funded hospitals are imbued with a civic and scientific ethos.
"Ireland is a different country than it was 39 years ago. Modern Ireland is still a country with faith and spirit and values. Family, community, enterprise, social justice, diversity, openness and internationalism, equality before the law, and individual liberty – these values describe the Republic we aspire to be."