The UK's first spaceport could launch around 2,000 satellites by 2030 as part of efforts to bring in £3.8 billion through the industry, according to new figures.
Business Secretary Greg Clark made the announcement during his first visit to the proposed site in the Highlands on Thursday.
Plans for the Sutherland spaceport were unveiled last month.
A new report released by the UK Space Agency suggests there is a "significant gap" in commercial small satellite launch provision, with demand for the sector estimated to be worth up to £3.8 billion to the economy over the next decade.
Mr Clark said: "From our market leadership in small satellite construction to our world-leading universities, Scotland and the UK come from a position of strength in the global space sector which will be turbo-boosted by the first new spaceport and our industrial strategy.
"However, I want to make sure that this giant leap for the UK will also deliver on the ground, that's why I'm here today to discuss benefits in local jobs, uplifting tourism and businesses, helping to bring prosperity to all."
The spaceport will be developed by Highlands and Islands Enterprise (HIE), which has approved investment of up to £9.8 million in the £17.2 million facility.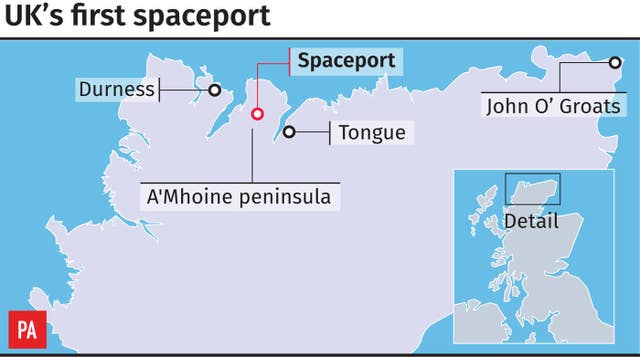 If approved, it could see a vertical launch site built for a new generation of small rockets to launch micro communication and earth-observation satellites.
Melness Crofting Estate near Tongue is the proposed location.
Scotland has been described as the best place in the UK to reach in-demand satellite orbits with vertically launched rockets.
It is estimated the spaceport could create 400 jobs in the area.
Employment would come from activities at the spaceport, inward investment, and supply chain opportunities.
Roy Kirk, of HIE, said: "Establishing the UK's first spaceport in Sutherland is a fantastic opportunity for the Highlands and Islands, and for Scotland.
"The international space sector is set to grow very significantly in the coming years.
"Crucially, we believe it will also stimulate further related investment and business activity more widely across the Highlands and Islands and other parts of Scotland."
The 2,000 satellites are forecast to launch between 2021 and 2030.