Downing Street has insisted the Government is engaged in "good planning" and taking "sensible precautions" in case there is a no-deal Brexit.
Asked if Theresa May would continue to lead the country if her negotiations fail and the UK is plunged into a no-deal scenario, the Prime Minister's official spokesman said she is "fully committed to delivering on the will of the British people".
Ministers have confirmed efforts to stockpile medicines and ensure an "adequate" food supply if there is a no-deal Brexit.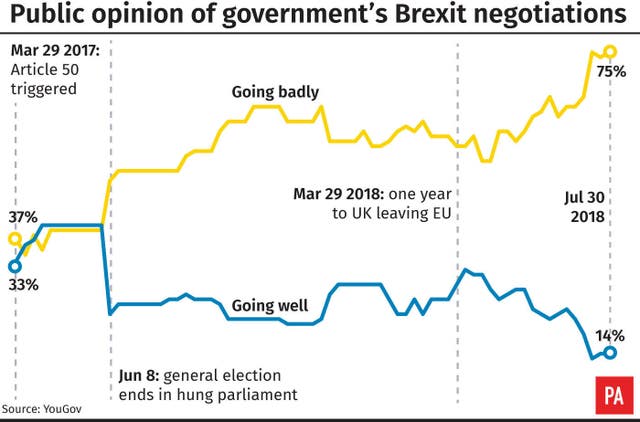 Dozens of technical notices setting out what businesses and concerned citizens need to do are expected to be published in August and September.
The Prime Minister's spokesman said: "We have been absolutely clear that it's in the interests not just of ourselves but the EU to get a deal.
"In the event of no-deal there will of course be consequences for the European Union."
The spokesman added that the plans are aimed at ensuring an "orderly" Brexit even if there is no agreement with Brussels.
"We are working towards getting a deal but the Prime Minister is clear that we will put in place all the necessary steps to ensure the UK has a bright future."
Asked whether the food industry was aware it was supposed to be leading work on ensuring an adequate supply post-Brexit, the spokesman said: "There have been discussions with all sectors of business since the Brexit process began."
But the spokesman played down reports that the military had been put on stand-by to deal with a no-deal scenario, saying there are "no plans to involve the Army in this".
Downing Street defended ministers taking holidays despite the tense state of the Brexit talks, saying: "The Prime Minister and other ministers are always fully engaged with their briefs.