Dublin would back any request from the UK for an extension to the Article 50 process to give more time to negotiate withdrawal from the EU, Irish foreign minister Simon Coveney has said.
Mr Coveney rejected Eurosceptic talk of a no-deal Brexit as "bravado" and said he believed there was still time to reach agreement by October.
But called for an "intensification" of talks at official level over the summer to resolve outstanding differences.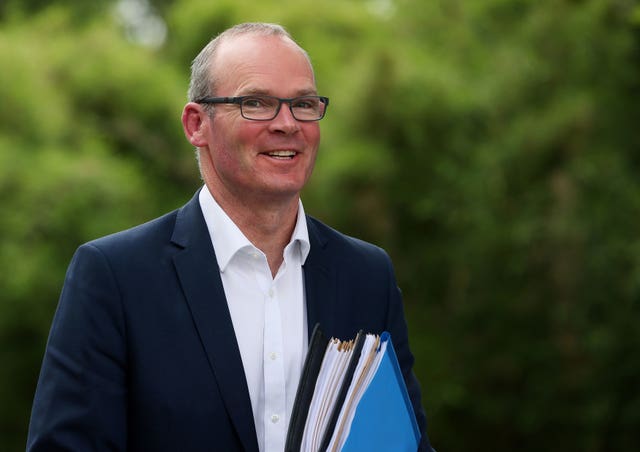 He dismissed suggestions that amendments to Brexit legislation forced on Mrs May by Eurosceptic backbenchers would prevent agreement on a "backstop" arrangement for the Northern Irish border.
Mr Coveney was speaking as talks continued in Brussels, with a meeting between EU chief negotiator Michel Barnier and Brexit Secretary Dominic Raab scheduled for Thursday.
Mrs May confirmed on Tuesday that she had taken personal charge of the negotiations, with Mr Raab "deputising" for her in Brussels.
Tory Eurosceptics have voiced concerns that Mr Raab's department has been sidelined by Number 10 and Mrs May's Europe adviser Olly Robbins, amid increasing speculation that divisions within the Conservative camp may result in a no-deal Brexit.
Mr Coveney confirmed that Dublin was making contingency plans to cope with Britain crashing out of the EU without a deal.
But he told BBC Radio 4's Today programme: "The truth is I don't believe that Britain can afford a no-deal Brexit, I don't believe Ireland or the EU want that either.
"The negative implications of a no-deal Brexit are very significant for Ireland and the UK. We all have an obligation to make sure that doesn't happen. I think it's very unlikely to happen."
Asked whether Dublin would back an extension of the Article 50 process, Mr Coveney said: "Absolutely, if Britain asks for more time and if that is necessary to get to a sensible agreement, we would support that, of course we would.
"But I think, even though the timetable is tight, it is possible to achieve an outcome that is good for Britain and good for the EU within the timelines that are currently there. But it also requires an intensification of the negotiations on Brexit."
Mr Coveney said that the UK had been "negotiating with itself" in the six months before the publication of the white paper.
"We now have clarity in terms of what the British Government ask is," he said. "I think there are elements of that that would be difficult to negotiate… but I think it is easier to achieve now."
Potential stumbling blocks in Mrs May's plan include the separation of regimes for goods and services and the creation of a "complex" new customs arrangement under which different tariffs are charged for imports destined for the UK or EU, he said.
But he rejected the idea that the amendment passed by the Commons barring a customs border in the Irish Sea would make it impossible to agree the EU's backstop plan for Northern Ireland.
"You can't have a negotiation on the basis of passing laws in your parliament or introducing amendments in your parliament and then saying, 'Sorry, we have no flexibility now'," he said.
"The European Union could do the same and we would get nowhere."
Mr Coveney's comments came as more details emerged of planning for a no-deal Brexit.
Health Secretary Matt Hancock told MPs he had asked officials to "work up options for stockpiling" by the pharmaceutical industry, while Mr Raab said the Government would also take steps to ensure an "adequate food supply".
Sarah Wollaston, chairwoman of the Commons Health Select Committee, called for more clarity about the Government's plans.
The pro-EU Tory told BBC's Newsnight: "It's not just about stockpiling here, there are some products that can't be stockpiled.
"Around 700,000 diagnostic tests every year in the NHS require medical radioisotopes but these have very short shelf-lives, they can't be stockpiled and they aren't manufactured here."
Two former Northern Ireland secretaries, Owen Paterson and Theresa Villiers, wrote in the Daily Telegraph that technological solutions can be made to work to keep the Irish border soft, "if only they are not delayed by political squabbles".
Meanwhile, efforts to repair the European Union's relationship with the White House will see Jean-Claude Juncker meet Donald Trump in Washington for talks on the trade dispute between the US and its allies.
Ahead of the meeting, the US president tweeted to suggest abolishing tariffs between the US and EU only hours after another tweet in which he declared "tariffs are the greatest!"
He wrote: "The European Union is coming to Washington tomorrow to negotiate a deal on Trade. I have an idea for them.
"Both the U.S. and the E.U. drop all Tariffs, Barriers and Subsidies! That would finally be called Free Market and Fair Trade! Hope they do it, we are ready – but they won't!"