Inflation unexpectedly stalled in June, raising questions over a much-anticipated interest rate hike by the Bank of England next month.
The Office for National Statistics (ONS) said the Consumer Prices Index (CPI) rate of inflation held steady at 2.4% in June as higher motor fuel, gas and electricity prices were offset by deeper discounting by clothing retailers.
Economists were expecting inflation to rise to 2.6%.
"However, gas and electricity and petrol prices all rose, with consumers seeing the highest price at the pump for nearly four years, with inflation remaining steady overall."
The surprise figures knocked the pound to its lowest level against the US dollar since September, as traders considered whether it would cause a pause among the Bank of England's rate-setting Monetary Policy Committee (MPC) who are expected to consider raising interest rates from 0.5% to 0.75%.
Tom Stevenson, an investment director at Fidelity International, said: "Faster rising prices would have given the Bank of England cover for an interest rate hike next month.
"Now it looks odds-on that the MPC will hold fire yet again.
"That's particularly the case after yesterday's wage growth data emerged weaker than expected at 2.5% including bonuses."
Sterling was down 0.6% against the US dollar at 1.302, and down 0.3% versus the euro to 1.121.
Howard Archer, a chief economic advisor to the EY ITEM Club, said today's release was unlikely to change the MPC's thinking ahead of the August meeting.
"But, coming on the back of another subdued reading for wage growth in yesterday's labour market release, the data continues to undermine the narrative around a tighter labour market driving up wages and prices.
"Therefore, the pace of interest rates hikes is likely to remain very gradual."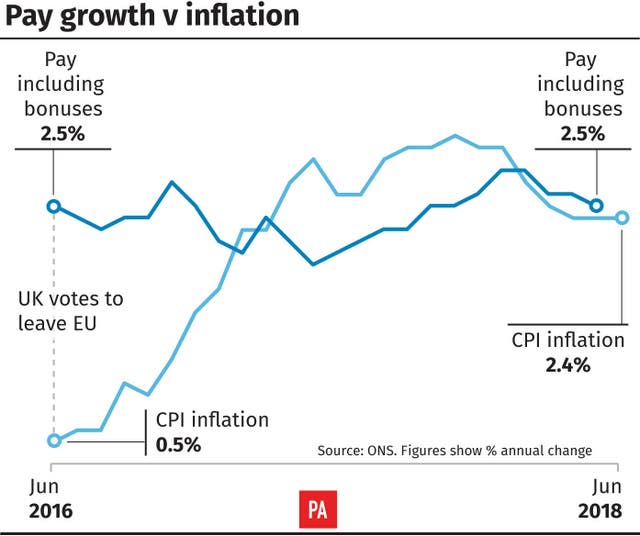 Bank Governor Mark Carney earlier this month said that a revision in the first quarter growth rate from 0.1% to 0.2% gave him "greater confidence" that softer UK activity in the first three months of the year was "largely due to the weather, not the economic climate".
The ONS's inflation report showed that consumers have been contending with higher prices at the pump, with a recent jump in crude oil prices sending petrol up 2.7p per litre on the month to 128p per litre, while diesel rose 2.9p to 132.1p.
It marks the highest level for both petrol and diesel since September 2014.
Households were also squeezed by gas and electricity costs, which rose 2.5% and 2.2% respectively, month on month.
Some of the largest energy suppliers – including British Gas, Scottish Power, and EDF Energy – have announced price rises set to kick in over the summer.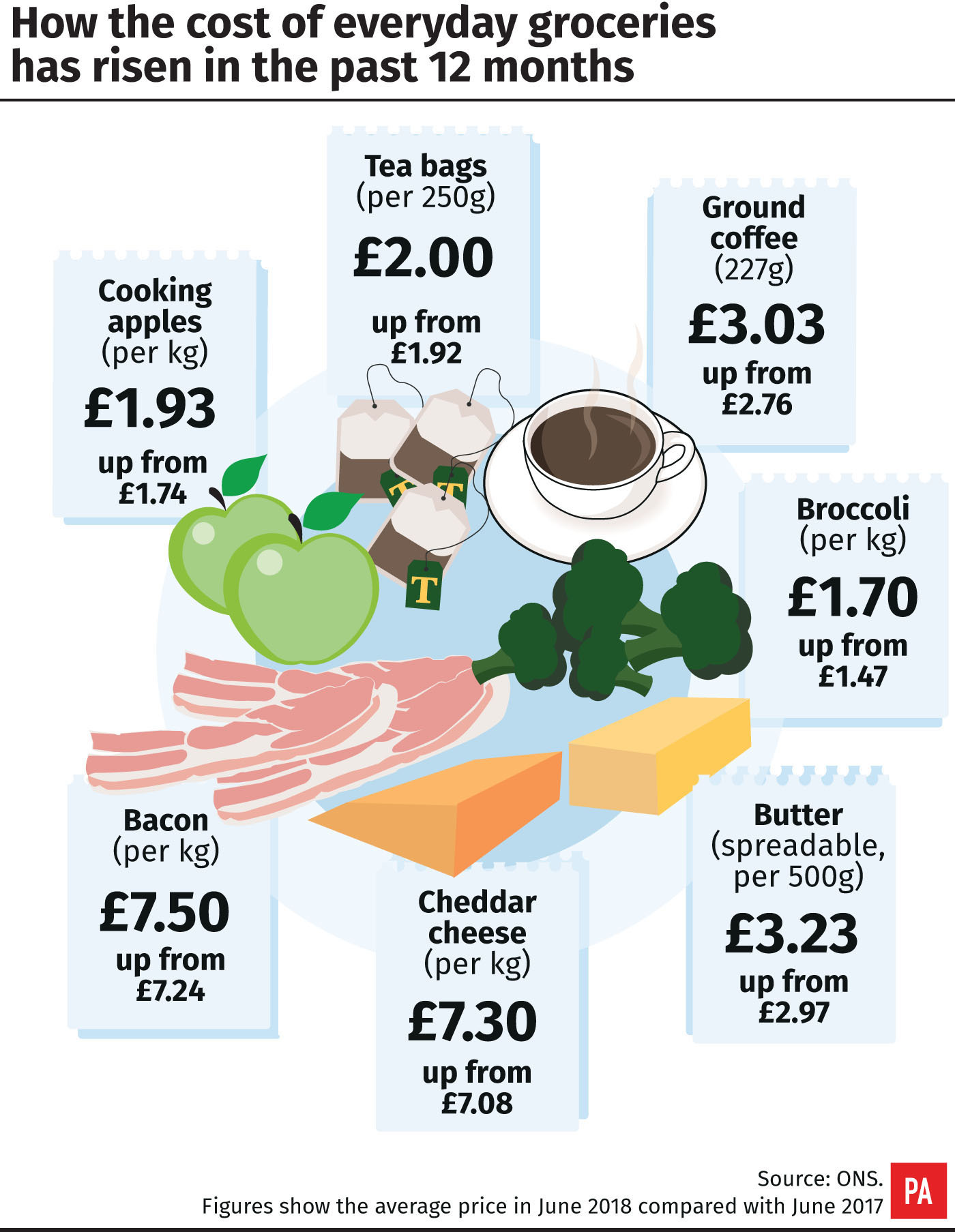 Prices usually fall between May and June as summer sales get under way, but the 2.3% drop this year compares with a 1.1% fall a year ago, and is the largest decline during the same period since 2012.
There was also a drop in the prices of games, toys and hobbies, particularly in the cost of computer games, sending prices for recreation and culture down 0.4% overall.
Food prices eased by 0.6%, due primarily to a drop in fruit prices and a category that includes syrup, sugar, jam, chocolate and confectionery, for which prices fell 1.1% and 1.3% respectively.
The Retail Prices Index (RPI), a separate measure of inflation, was 3.4% last month, up from 3.3% in May.
The Consumer Prices Index including owner-occupiers' housing costs (CPIH) – the ONS's preferred measure of inflation – was 2.3% in June, in line with May's reading.