The official Brexiteer campaign organisation at the 2016 referendum has been fined and senior figures referred to the police for breaking electoral law.
Vote Leave, which was supported by senior politicians including Boris Johnson and Michael Gove, failed to declare money it spent with controversial data firm Aggregate IQ, the Electoral Commission said.
The commission said its investigation found "significant evidence" of joint working between Vote Leave – which has been fined £61,000 – and another campaign group, BeLeave, which was founded by student Darren Grimes.
Mr Grimes was fined £20,000 and referred to the Metropolitan Police along with Mr David Halsall, the responsible person for Vote Leave, "in relation to false declarations of campaign spending", the Commission added.
Vote Leave accused the Commission of being "motivated by a political agenda rather than uncovering the facts".
The investigation centred on a donation of almost £680,000 made by Vote Leave to BeLeave, a youth Brexit group.
The Commission found that BeLeave "spent more than £675,000 with Aggregate IQ under a common plan with Vote Leave", which should have been declared by the latter but was not.
This spending took Vote Leave over its £7 million legal spending limit by almost £500,000.
Bob Posner, Electoral Commission director of political finance, said: "We found substantial evidence that the two groups worked to a common plan, did not declare their joint working and did not adhere to the legal spending limits.
"These are serious breaches of the laws put in place by Parliament to ensure fairness and transparency at elections and referendums.
"Our findings relate primarily to the organisation which put itself forward as fit to be the designated campaigner for the 'leave' outcome."
Vote Leave was the official registered Brexit-supporting campaign group for the 2016 referendum.
As well as Mr Johnson, the former foreign secretary, and Mr Gove, the current Environment Secretary, it was supported by MPs including Transport Secretary Chris Grayling, International Development Secretary Penny Mordaunt and her predecessor Priti Patel, the new Brexit Secretary Dominic Raab and leading Labour Brexiteer Gisela Stuart.
The original allegations against the campaigns came from information provided by whistleblowers including Christopher Wylie and Shahmir Sanni, who alleged the money was used to pay Aggregate IQ for targeted messaging services on Facebook and other social media.
Mr Wylie worked for Cambridge Analytica, the data firm at the centre of the Facebook privacy scandal, while Mr Sanni worked with Vote Leave.
Vote Leave is the latest Brexiteer group to be penalised financially and have senior figures referred to the police for investigation.
In May Brexit campaign group Leave.EU was fined a record-equalling £70,000 and its chief executive Liz Bilney referred to police over its spending during the referendum campaign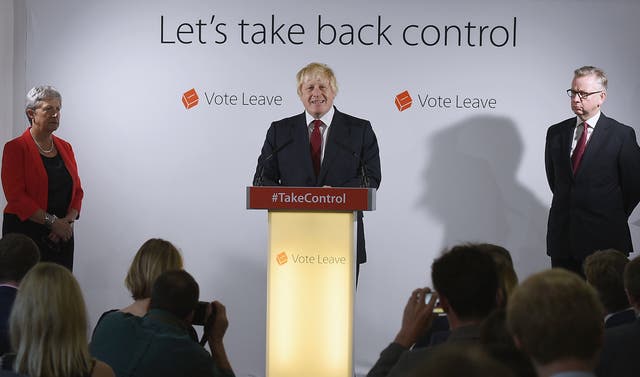 He said: "Vote Leave has provided evidence to the Electoral Commission proving there was no wrongdoing.
"And yet, despite clear evidence of wrongdoing by the Remain campaign, the Commission has chosen to ignore this and refused to launch an investigation.
"All this suggests that the supposedly impartial Commission is motivated by a political agenda rather than uncovering the facts.
"The Commission has failed to follow due process, and in doing so has based its conclusions on unfounded claims and conspiracy theories.
"We will consider the options available to us, but are confident that these findings will be overturned."
He also reiterated the claim that the Commission failed to interview anyone from the campaign despite them being "willing to do so".
Asked whether Theresa May still believed that the 2016 referendum was free and fair, the Prime Minister's official spokesman said: "The PM is absolutely clear that this was the largest democratic exercise in our country.
"The public delivered a clear verdict and that is what we are going to be implementing."
Asked whether Mrs May continued to have confidence in former Vote Leave staffers Stephen Parkinson and Cleo Watson who moved to Downing Street following the referendum, the spokesman said: "Yes."
The chair of the House of Commons Digital, Culture, Media and Sport Committee, which is conducting an investigation into the use of data in the referendum, said that electoral law "does not appear to be fit for purpose for the digital age".
Damian Collins said that the maximum fines available to the Commission for campaign wrongdoing was "too low to be a significant deterrent".
"In our forthcoming interim report on fake news we will be considering what recommendations we can make that would strengthen the powers of bodies such as the Electoral Commission and Information Commissioner's Office to ensure we can combat fake news and disinformation in public discourse," said Mr Collins.
The Electoral Commission report says it contacted Vote Leave on November 20 last year and asked members to attend an interview.
It did so again in December and January this year "but Vote Leave did not respond to our suggested dates", before two more interview dates were offered in February.
It said the campaign group then "began to repeat procedural questions we had already answered", adding: "By mid-February we were concerned that Vote Leave had not given us the information we needed about the matters under investigation, nor agreed to put up representatives for interview."
Mr Posner added: "Vote Leave has resisted our investigation from the start, including contesting our right as the statutory regulator to open the investigation.
"It has refused to co-operate, refused our requests to put forward a representative for interview, and forced us to use our legal powers to compel it to provide evidence.
"Nevertheless, the evidence we have found is clear and substantial, and can now be seen in our report."
In a statement posted on Twitter, Darren Grimes accused the Commission of fining him "on the basis of the wrong box being ticked on an application form".
Describing the penalty as "entirely disproportionate and unjustified", he added: "Politicians say they want young people to engage with politics. I was 22 when I got involved in a referendum I felt passionately about.
"I did nothing wrong. I have been persecuted for over two years by powerful people for nothing more than engaging in the democratic process and having the temerity to be on the winning side."
Labour has been granted an Urgent Question in the Commons on Tuesday morning to discuss the investigation.