The Donald Trump baby blimp will be flown at a protest in Edinburgh.
The 20ft inflatable depicting the US president as a nappy-clad baby holding a mobile phone has been brought north of the border after being flown above Parliament Square in London on Friday.
It prompted Mr Trump to say it made him "feel unwelcome" in the city, on his second day of a four-day UK visit.
Campaigners confirmed the blimp will fly in the Meadows, where a protest march against the US presidents ends, from around noon.
An Edinburgh City Council spokeswoman: "The council, Police Scotland and the Civil Aviation Authority were happy to give it the go-ahead as there were no security concerns."
Protester Leo Murray, one of the blimp's "babysitters", said: "We were inundated with messages from friends and allies in Scotland asking us to bring Trump baby up, so we really wanted to make sure that he could be a part of the amazing spread of protests taking place over the weekend."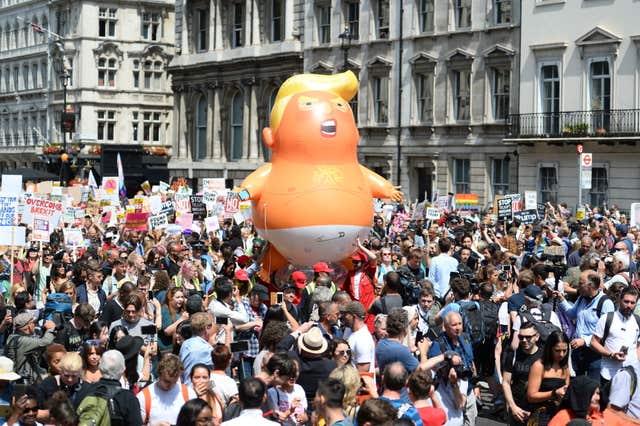 Earlier, plans to fly it above the Trump Turnberry golf course as the president visits there this weekend were blocked due to airspace restrictions.
Various protests are planned to coincide with the US leader's visit to Scotland, including a national demonstration and "carnival of resistance" in Edinburgh.