The Bishop of Derry has pleaded for calm in the city, telling those involved in clashes with police that nothing can be built with petrol bombs.
Hundreds of people from across Londonderry turned out at a rally to protest against the six nights of violence in the Bogside area of the city.
Residents, clergy members including Bishop of Derry Donal McKeown and politicians from across the divide turned out at Butcher Gate, the spot where police Land Rovers were attacked with petrol bombs on Thursday night.
"We in leadership need to remember that a lot of our young people feel left behind.
"This great city will not be drawn back to the years of suffering and loss.
"Nothing can be built with petrol bombs and stones thrown in anger.
"The people of Derry deserve so much better than violence."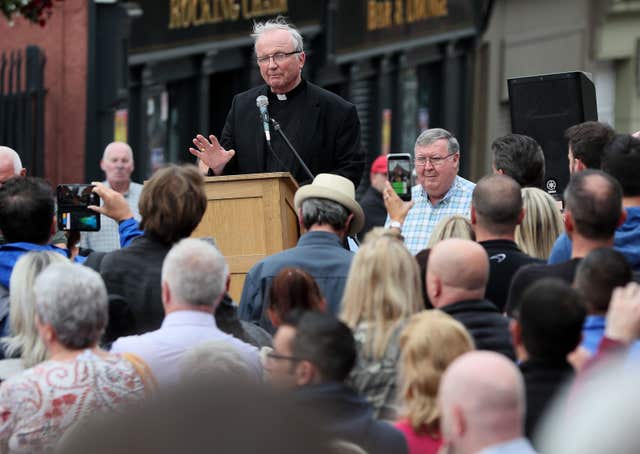 Members of Sinn Fein, including leader Mary Lou McDonald, Michelle O'Neill and Martina Anderson were greeted with a round of applause by the waiting crowds when they arrived at the community organised event.
Fiachra McGuinness, son of the late former deputy first minister Martin McGuinness, was also there in support of his father's former neighbourhood.
The bishop added: "Some communities that suffered in the past, still suffer today.
"Our young people feel they have been left out and left behind. Life is passing them by and looking down on them.
"However, this city has learned that violence and destruction doesn't benefit anyone.
"You can't claim to love your country and cause destruction and pain to those who live in it.
"All who live here deserve to be cherished equally."
A heavy police presence could be seen in Derry city centre from early Friday evening.