A contest to select a new leader of the Conservative Party takes place if the current leader resigns or loses a vote of no confidence among his or her own MPs.
To trigger a no-confidence vote, 15% of Tory MPs must write to the chairman of the backbench 1922 Committee, currently Sir Graham Brady.
With 316 Conservative MPs in the House of Commons, Sir Graham must receive 48 letters to call a ballot.
If Theresa May chose to fight, she would need the support of more than 50% of Conservative MPs – currently 159 – in the confidence vote to stay in office.
But even if she achieved that threshold, a narrow victory would seriously undermine her authority and may lead her to question whether it was worth carrying on.
If she lost the vote, she would not be able to stand in the subsequent leadership contest, arranged by the chairman of the '22.
Candidates for the leadership must be nominated by two Conservative MPs. If only one candidate comes forward, he or she becomes leader.
If a number of would-be leaders are nominated, the list is whittled down to a shortlist of two by MPs before being put to party members in the country.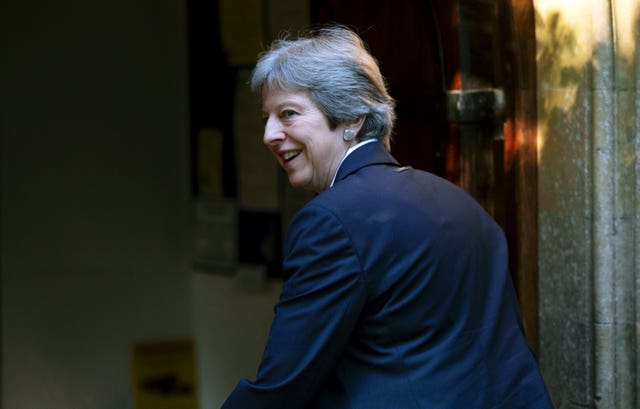 Sir Graham would be responsible for overseeing the contest and setting a timetable for the campaign, which would be expected to last around 12 weeks.
Mrs May could remain in post during the campaign period.
With a target of October to finalise the UK's EU withdrawal deal and secure a political agreement on future relations with Europe, it is likely there would be pressure for a truncated campaign to get a leader in place quickly.
Only those who are members of the Party or the Scottish Party at the time of the call for nominations for the leadership, and have been members for at least three months immediately prior to the close of the ballot, are entitled to vote.
Tory membership stood at 124,000 in March this year.
Members are believed to be on average older and more enthusiastic about Brexit than either MPs or Conservative voters.
Since the current rules were adopted in 1998, members have chosen Iain Duncan Smith over Kenneth Clarke in 2001 and David Cameron over David Davis in 2005.
In 2003, Michael Howard was the only candidate and in 2016, Mrs May became leader without a ballot of members after her only remaining rival, Andrea Leadsom, pulled out.