A police officer who attended hospital over concerns he may have been exposed to Novichok has been given the all-clear.
The officer, believed to be with Wiltshire Police, initially attended Swindon's Great Western Hospital after feeling unwell.
He was later taken to Salisbury District Hospital, a short distance from Amesbury where Dawn Sturgess, 44, and her partner Charlie Rowley, 45, fell ill last Saturday.
They remain in a critical condition in hospital after exposure to Novichok by handling a contaminated item.
A hospital spokesman said: "The police officer who was transferred to Salisbury District Hospital this evening has been tested and does not require any treatment. This individual was not poisoned by a nerve agent.
"The individual has left the hospital site.
"The transfer of this person to Salisbury District Hospital was always a highly precautionary measure."
Forensic investigators are continuing to comb for clues in Wiltshire after the latest Novichok poisonings – the second major investigation involving the nerve agent this year, following the case of Sergei and Yulia Skripal in March.
Investigators wearing camouflage protective clothing entered the John Baker House assisted-living accommodation in Salisbury, where mother-of-three Ms Sturgess lives, after they took a sample from the outside of the building on Friday.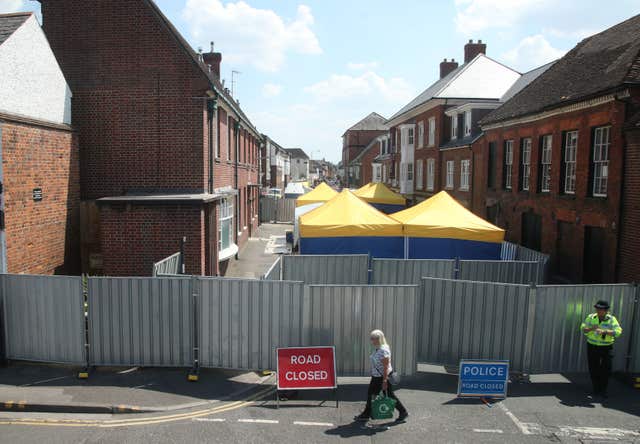 Officers have spoken to several key witnesses and are trawling through more than 1,300 hours of CCTV footage which has been collected so far.
Those in camouflage at John Baker House were followed in by two others, one of whom was taking pictures, as they began combing for the deadly substance.
They took a swab from the exterior of the building on Rollestone Street, which is now under a heavy cordon and lined by forensic tents.
There was also a heavy operational presence at Mr Rowley's flat, where they were both taken ill.
Incident response vehicles and fire engines joined police at his Amesbury home.
Police have been unable to locate the source of the contamination and have not ruled out the possibility of more people falling ill from coming into contact with the substance left over after the Skripals were targeted.
One theory understood to be under investigation is whether the pair inadvertently found the container used to transport the nerve agent in the Skripal attack.
Mr Rowley has been described as having foraged for goods to fix and sell, and is known to have collected discarded cigarettes.
Public Health England has repeated "highly precautionary advice" for people who had visited five locations identified by police, but insisted there is no immediate health risk.
PHE advised washing clothes worn with regular detergent at a normal temperature; wiping items such as phones and handbags with cleansing or baby wipes; and double-bagging items that are dry-clean only with further instructions to follow.
The locations identified by police are: Queen Elizabeth Gardens in Salisbury; a property at John Baker House, Rolleston Street, Salisbury; a property on Muggleton Road, Amesbury; Boots the chemist, Stonehenge Walk, Amesbury, and the Baptist church on Raleigh Crescent, Amesbury.
The Metropolitan Police said: "Due to the unique challenges involved with this operation, police activity is expected to take weeks and months to complete.
"The focus of the investigation remains identifying the source of the contamination as quickly as possible."
The Russian Embassy hit back, accusing the Government of trying to "muddy the waters" and "frighten its own citizens".
The Defence Science and Technology Laboratory at Porton Down confirmed on Wednesday that the victims had been exposed to Novichok.
Novichok remains highly toxic for a considerable period of time, so even the tiniest trace remaining in a container picked up by the victims could account for their severe illness.