England football supporters were put through a spectrum of emotion as they roared their team to the narrowest of World Cup last-16 victories from more than 1,500 miles away.
Beers were jubilantly tossed into the air, songs were belted out and strangers in fan zones embraced each other as England won their penalty shootout against a dogged Colombia.
In Newcastle, one topless man climbed on a bus shelter, danced and did press-ups for a cheering, singing crowd.
Four police officers – one with a small set of ladders – watched him as he entertained the crowd and finally helped him down.
A stoppage-time equaliser from Colombia's Yerry Mina put paid to England's hopes for a steady passage to the next round following skipper Harry Kane's opener, and the mood back home became much more subdued as they stared down the barrel of a penalty shootout.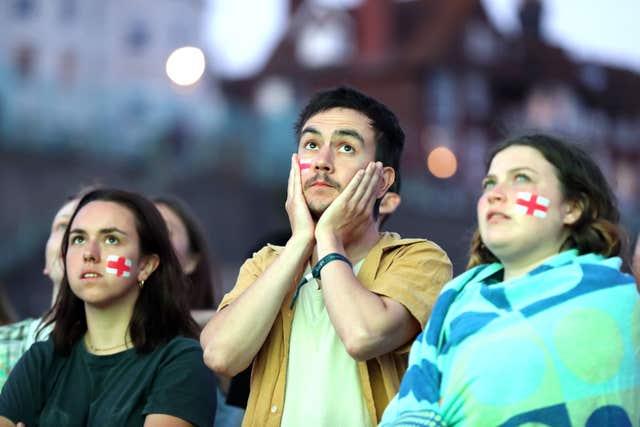 "I was so upset, I felt quite deflated.
"When the screen cut out I thought this was a classic English thing to happen.
"But then when we won the penalties that was the best moment in the history of English football.
"I felt exhausted, stressed, elated. It was unbelievable."
He was one of more than 2,200 people to have piled onto the seaside location to watch the match.
Katie Johnson, 26, who travelled from Brixton to watch the match on Brighton beach with friends, said: "My heart was pounding when the screen went out.
"We were trying to download the app to watch it or considering scaling the fence to get to the nearest pub, but then it came back on so we were rewarded for our patience.
"When they scored the final penalty to win, it felt amazing.
"All I can think now is 'It's coming home.'"
Fans wearing replica shirts chanted "football's coming home", the refrain which has long been adopted as an unofficial national anthem for the England football team, at various points during the match, most notably after Spurs striker Kane's opener, goalkeeper Jordan Pickford's penalty save, and substitute Eric Dier's decisive spot-kick.
Football fans who had packed onto a specially built grandstand in the beer garden of the Railway Tavern pub in Dereham, Norfolk erupted with cheers as Dier scored England's winning penalty.
People hurled plastic cups of beer in the air as hundreds jumped around and chanted "It's coming home".
Mark Rock, 25, who lives Ashill, near Dereham, said: "It was good, brilliant, fully deserved, we go through on penalties, finally!"
Asked how far he thinks England will go, he said: "All the way, it's coming home!"
Gesturing to the grandstand, with crowds in fine voice, he added: "I just heard off the grapevine up there, it's coming home."
Luke Cook, 23, of Dereham, said: "I think they defended well, very well, the finish wasn't quite there but they defended very well.
"It was very nervy, we done it the hard way but we done it."
Asked on England's chances in the rest of the tournament, he added: "Final mate, we got it, we got it in the bag."
There were cheers and celebrations from a small number of Three Lions fans inside Lost Rivers in Elephant and Castle, south London, where – just like in Moscow's Spartak Stadium – the majority of those watching were supporting Colombia.
England fans were less outnumbered in Times Square, Newcastle, where the 2,000-odd crowd was overwhelmingly and unapologetically partisan.
Beer sprayed high into the blue Tyneside sky as Kane scored England's spot-kick.
Supporters hugged and danced when the penalty was given and the fans' zone erupted when it was tucked away.
But joy turned to anxiety and gave way to despair as Colombia equalised in injury time.
Elsewhere, the masses of Colombia fans in Elephant and Castle's Lost Rivers were left disappointed.
Erika Rodriguez who was born in Britain but whose family are from Cali in Colombia, said the loss "just sucks".
The 27-year-old from south east London said: "I just really wanted to beat them (England). I thought it was a good game.
"England thought it would be easier than it was, I am glad we took them to penalties – but it just sucks.
"The boys played really well, you could see they really wanted it."