Ireland's premier has hit out at Sinn Fein leader Mary Lou McDonald for "being almost in the space" of undermining the confidence of the new Garda Commissioner.
Drew Harris, Deputy Chief Constable of the Police Service of Northern Ireland, was appointed to the top role on Tuesday.
Mr Harris is expected to take up the job in September following the resignation of Noirin O'Sullivan.
Speaking in the Irish parliament on Wednesday, Ms McDonald said that her party wants to work constructively with the new Garda Commissioner but that they will "hold him to account".
She raised comments made by Stephen Travers, a survivor of the Miami Showband massacre, who described the appointment as "catastrophic" to the nationalist community in Northern Ireland.
Three members of the showband were murdered by the Ulster Volunteer Force (UVF) in July 1975.
"Mr Travers spoke of RUC (Royal Ulster Constabulary) collusion and the old RUC culture of political policing and cover-up," she told the Dail.
"He regards Mr Harris as part of that culture which has denied people the truth.
"Similar concerns have been voiced by the Relatives for Justice campaign group.
"They say Mr Harris has, and I quote, 'at every opportunity sought to thwart families in their search for truth and accountability, that he has had a stranglehold on legacy matters'."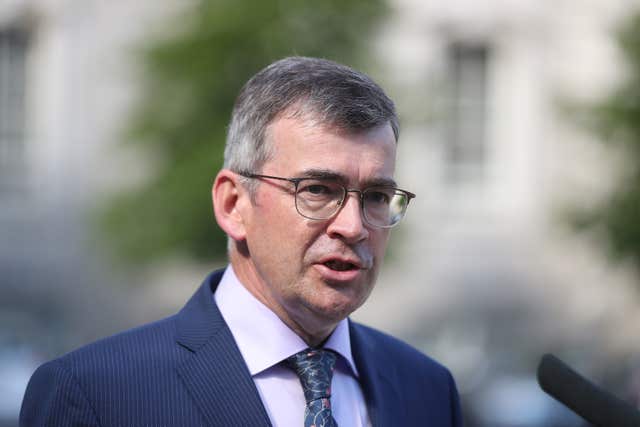 Taoiseach Leo Varadkar said that Mr Harris's appointment was "very much" in line with policing reforms which the government introduced.
He added that he was "a little bit disappointed" by Ms McDonald's position which was "almost in the space of trying to undermine confidence" in the new Garda Commissioner.
"I think Drew Harris is someone who can bring about better policing in Ireland, policing our communities better, and greater accountability on behalf of the gardai," he said.
"He's familiar with the policing accountability mechanisms, such as the policing board that exists in Northern Ireland."