The firefighter in charge for the first hour of the Grenfell Tower blaze has described feeling "helpless" as flames reached the top of the building within minutes.
Michael Dowden, watch manager for the North Kensington station, witnessed the inferno tear up 19 floors in 12 minutes on June 14 2017.
Between 1.16am and 1.29am, the fire had escalated from requiring six engines to 20, a degree of increase the 14-year veteran of the London Fire Brigade had never seen before.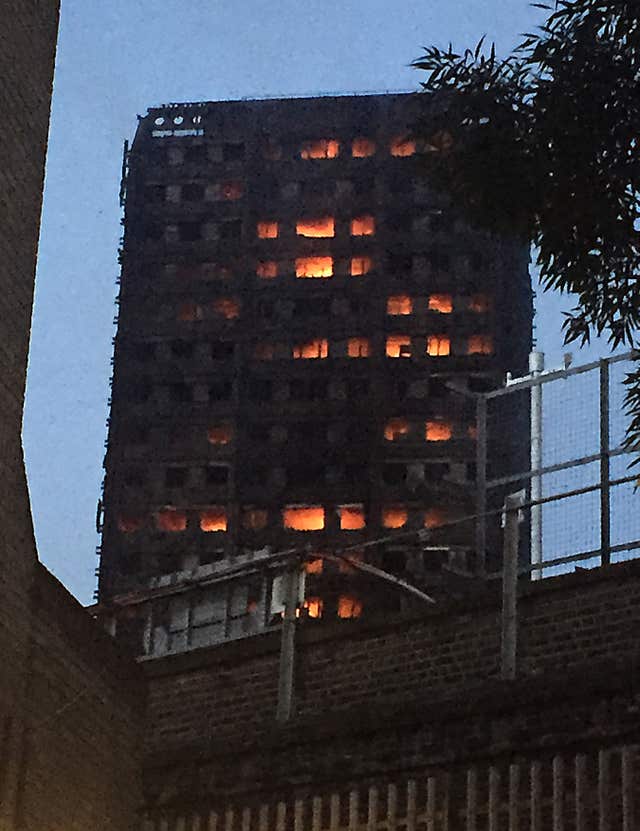 Mr Dowden wrote in the weeks after the disaster that it was "very daunting" to request 15 fire engines around 35 minutes after the fire broke out.
The inferno had reached close to the top of the west London block when the initial incident commander ordered "make pumps 15" at 1.28am.
A "persons reported" message was sent to the control room at around that time – indicating residents were trapped inside – after the officer saw a man and his son showing signs of smoke inhalation as they left the building.
A handwritten note he made after the fire was shown to the hearing at Holborn Bars. It read: "All my experience now gone out of the window, very daunting moment, I felt helpless."
He said on Wednesday: "There probably was moments I did feel helpless, it is a very difficult place to be as an incident commander when it is just relentless."
But despite the fire climbing to the roof of Grenfell Tower by 1.29am, the officer said he did not think compartmentation had necessarily failed and residents should be told to stay inside.
Compartmentation – a design feature that should ensure a blaze is kept within the flat of origin – is the basis of stay-put advice, as residents should be safe within their homes.
Asked if he thought it was still safe for 999 operators to tell residents to remain inside at 1.29am, he said: "Everything that I had previously experienced and everything I had understood as an incident command, yes – if a building doesn't fail."
Lead counsel to the inquiry Richard Millett QC pressed him on whether the tower had failed by that point, to which he answered: "Not to the extent of what I know now, no."
Asked if he thought it had failed to any extent, he said: "Not to the internal, but something was happening to the external of that building."
Residents were told to stay inside their flats until 2.47am, nearly two hours after the fire began.
It is feared that the delay in ordering a full evacuation could have contributed to the death toll.
On the advice 999 callers were given, Mr Dowden continued: "Fire survival guidance is when an occupant of that building cannot leave safely.
"To change that advice to a resident that felt they cannot leave that property safely because of the product of fire, heat and smoke – that is a really, really tough call to make."
He added: "I had not been in a position before when I ever had to make that decision or change that advice."
By the time 20 engines were requested at 1.29am, residents were now emerging with blackened faces and showing signs of smoke inhalation.
The officer said: "For me as an incident commander, the challenge we faced, an almost impossible situation trying to evacuate that building at that time with the resources in attendance. It is something I still search for today."
Mr Dowden was also questioned on why he did not declare a major incident when the fire reached the top of the building.
"I was just totally consumed by everything that was going on around me," he said, adding he suffered "sensory overload".
When Mr Dowden ordered "make pumps 25" at around 1.31am, his colleague David Badillo "had fear in his eyes", according to his handwritten notes.
Asked how Mr Badillo looked to give that impression, the officer said: "One of complete astonishment in terms of what was unfolding.
"I'm sure if anyone had looked in my eyes when I was incident commander, I would have had the same look."
The watch manager cried when he saw images of the burning tower on Tuesday and was given breaks every 30 minutes on Wednesday.
He is expected to give evidence for the entire day.