Bee Gees star Sir Barry Gibb has said he hopes his late brothers are proud as he collected his knighthood.
The 71-year-old's moving tribute to his twin brothers Maurice and Robin came as he collected his award from the Prince of Wales at Buckingham Palace.
"If I had spent my whole life writing songs on my own, it would have meant something else altogether.
"I hope and pray that they are aware of what has happened and that they are proud. I believe in that."
The singer, songwriter and record producer was honoured for his services to music and charity.
Maurice Gibb died from complications following an operation to correct an intestinal blockage in 2003.
Robin Gibb, who had a lengthy battle with cancer, died in 2012.
As the Bee Gees, the brothers were one of the most commercially successful bands of all time, with hits including Massachusetts, Night Fever, Stayin Alive, Jive Talkin, How Deep Is Your Love, Words, Tragedy and You Win Again.
With their tight falsetto harmonies and funky beats, they not only scored a series of hits as a family band but also wrote smash hits for some of the biggest names in showbusiness.
Sir Barry said: "Working with Barbra Streisand and different artists has always been special for me.
"I love to write for people. It is not just thinking, 'Oh, I will write a song today' but then when someone you admire asks you to write a song that is special motivation."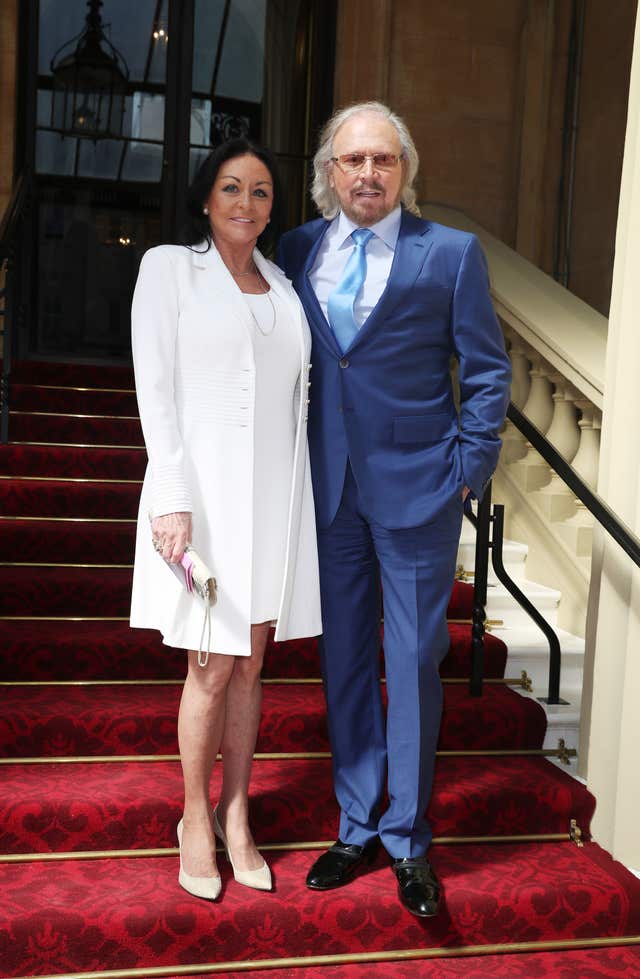 Destiny's Child had a hit with Emotion, while Kenny Rogers and Dolly Parton enjoyed success with Islands In The Stream.
Sir Barry said he is still trying to get used to his new title, which he is finding "a bit surreal".
He added: "It is a high award that your culture can give you and that is something I am enormously proud of."
On the secret of his family's success, he said: "I think being relentless had a lot to do with it. When you are a kid and you make up your mind to do something.
"You have got to have failure with a lot of success and I think that is what keeps you grounded."
Sir Barry was born on the Isle of Man before his family moved to Manchester and he grew up in Australia.
He recalled his family came back to England in 1967 "because we were entranced by The Beatles and we wanted to be a pop group like them".
Sir Barry said: "You always start off by emulating somebody and that way you can find yourself and be inspired by other artists."
Musical writer Sir Tim Rice has described Sir Barry as a "songwriter of staggering gifts".
Sir Barry is still making music and performed at the Glastonbury Festival in 2017.