Prince Harry remained tight-lipped when asked if he was nervous ahead of his wedding to Meghan Markle, but assured well-wishers he felt "great".
The prince greeted crowds on Castle Hill outside Windsor Castle with the Duke of Cambridge, just a short distance from St George's Chapel where he will tie the knot with the American star.
Royal wedding well-wishers erupted in applause and cheers when the brothers emerged through the gates of the castle on Friday evening.
Harry was dressed in navy trousers and a grey jacket and was sporting a beard when he appeared for the impromptu walkabout.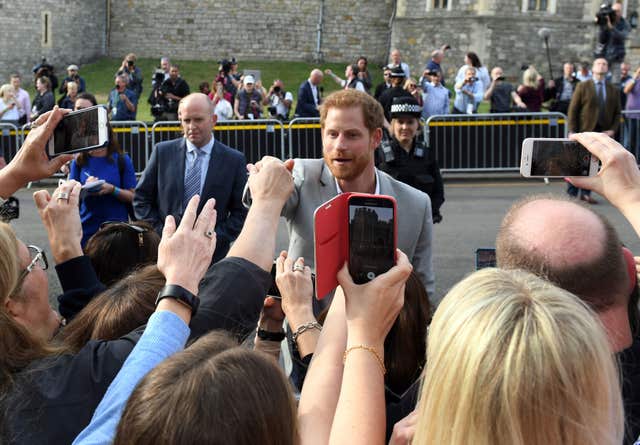 Harry was asked twice in quick succession if he was nervous, but did not answer. Shortly afterwards, when asked how he was feeling, he said: "Great, thanks. How are you feeling?"
Meghan O'Shea, aged seven, from Holyport in Berkshire, was among those who chatted with Harry.
The prince noted the 'H' in the little girl's name – like his soon-to-be wife Meghan – and she said he remarked: "Is that like the one I'm going to marry?
"There's not very many Meghans with a 'H' around."
Little Meghan said of her namesake: "I think she's very nice."
Saskia Frayling, 14, said of Harry and William: "They seemed so calm and relaxed the day before the wedding."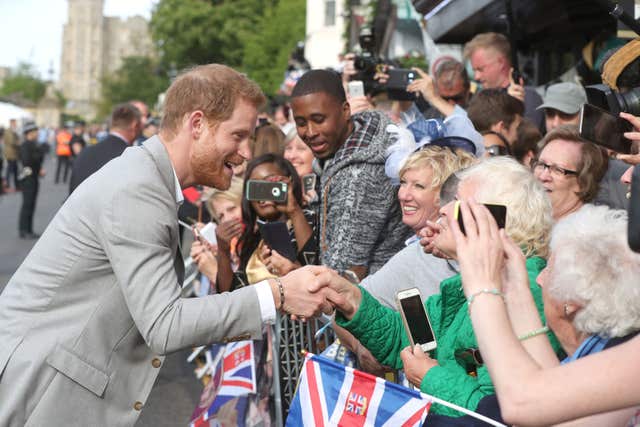 The prince, who was given a teddy bear by one well-wisher, laughed when one little boy told him he had been waiting "quite a while".
With Castle Hill packed with people, some of whom are camping out, Harry asked one fan who was without luggage: "You haven't got an overnight bag, have you?"
He told a woman who had travelled from Toronto: "Thank you so much for coming all this way."
The prince also asked excited fans if they were looking forward to Saturday.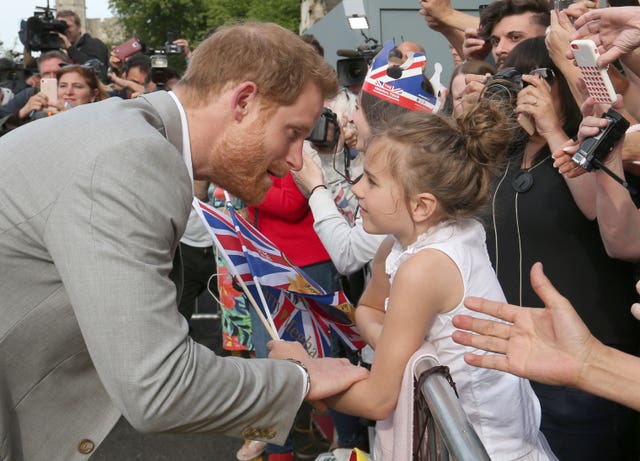 Dean Stott, 41, travelled the 14,000-mile Pan American Highway in 99 days, 12 hours and 56 minutes, knocking an astonishing 17 days off the previous best.
He finished the epic feat, which took him from the tip of Argentina to Alaska, early on Saturday morning, leaving barely a week to return to the UK and take up his invitation to the royal wedding.
The former special forces soldier trained with the prince for six weeks in 2007 and the pair have stayed close, with the groom-to-be finding time to congratulate his guest on the record-breaking achievement.
Afterwards Mr Stott said it was the first time he and Harry had seen each other since he returned, adding that he had not quite realised the magnitude of the wedding.
"My wife has been telling me how big it was. It's only just now that it's sunk in how big an event it is," he said.
Mr Stott said he was "honoured and privileged" to be attending the wedding.
He said Harry told him he was "looking skinny", as he had lost 12 kilos (26.4 pounds).
Despite his military career, Mr Stott said he had never seen such security as that around Windsor.
Talking about how Harry picked him out of the crowd, Mr Stott said: "I'm follicly challenged so I do stand out quite a lot, so it's quite easy to recognise me."
Asked if Harry looked nervous, he said: "If he is nervous, he's hiding it very well."
Ritu Dutt, 48, from Richmond, said she asked him about Prince Louis, who was born in April, and she said he replied: "Lots of sleepless nights but he's really lovely."
Andrea Bellamy, 30, from Wigan, said she told William that she was doing a skydive for mental health charity Place2Be, of  which his wife the Duchess of Cambridge is a patron.
She said he told her: "My wife will be thrilled."