An Irish rugby legend has said Paddy Jackson and Stuart Olding are "not bad young men" and should be allowed to play for club and country again.
Former Ireland captain Willie John McBride claimed the players, who were unanimously acquitted of rape, had learnt a "severe lesson" during a traumatic couple of months.
He said: "As far as I am concerned I think they have learned their lesson.
"All of them have issued their regrets and sadness about the affair and their apologies.
Jackson, 26, and his 25-year-old Ireland and Ulster team mate Olding, were unanimously acquitted of rape last month.
The jury of eight men and three women deliberated for three hours and 45 minutes after a marathon nine-week trial at Belfast Crown Court.
Mr McBride is president of the official Ulster Rugby Supporters' Club and does not know either player personally.
But he described their treatment post-verdict as "unfair".
"When the alcohol is in, the common sense is out, and it is very sad that they have all got caught up in this," he added.
"The guys have come through a very traumatic couple of months, where they have virtually been tried on television every day, walking in and out of the court.
"They have been tried on press every day, with photographs in the paper and all sorts of writings and they have been found not guilty.
"And now we have some people saying 'look, get rid of them, get them out of the way', which is totally unfair.
"These people are not guilty.
"It is time they were back playing rugby again."
The comments were made during an interview on RTE's Sean O'Rourke show on Wednesday.
Jackson and Olding have been relieved of their playing duties pending the outcome of a review by the IRFU and Ulster Rugby.
While he believed the men should be "reprimanded", Mr McBride did not think Ulster Rugby should apologise for players' conduct on "time off".
He added: "I hope that people will see that these are not bad young men."
On Wednesday an advertisement was placed in the Belfast Telegraph newspaper calling for Ulster and Irish rugby to reinstate "innocent men" to playing duties.
It was signed by "real fans standing up for the Ulster men".
Mr McBride said: "I find it very sad that even since the not guilty verdicts came out they are virtually being tried over again in the media and indeed by people outside rugby football, and I find that very sad."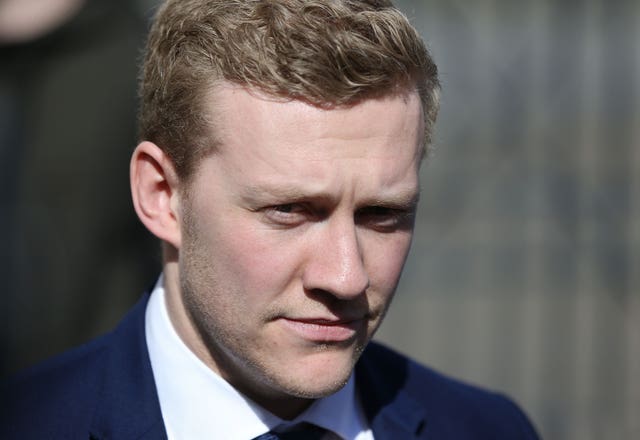 Women were also referred to as "brasses" – a slang term for prostitute – and sluts.
Mr McBride said he did not understand WhatsApp, but agreed the content was "wrong".
"We have all sinned in the past," he said.
"I am not saying we have been involved in things like that.
"These are young men who have got involved in a lot of silly things.
"As far as WhatsApp, I don't understand these things. They are long after my youth.
"I think it is very sad and very silly that they got involved in these things.
"It is obviously very wrong and very silly."
The consumption of large amounts of alcohol was also discussed at length during the high profile court case.
However, Mr McBride expressed disbelief at the 20 drinks Stuart Olding was said to have drunk.
"He is some drinker," said Mr McBride. "I don't honestly believe that."