A 12-year-old girl left traumatised when she was caught up in the Manchester Arena bombing has decided to take the grandmother of a teenager who died in the terror attack with her to the royal wedding.
Amelia Thompson said she was "speechless" when she found out she was being invited to Harry and Meghan's marriage next month.
A year ago, she was among the crowds when the bomb went off in the foyer at Manchester Arena and suffered trauma as well as damaged vocal cords from screaming at the horror of what she was witnessing.
Since the attack, Amelia and her family have met others affected by the bombing through fundraising efforts, including a photo shoot.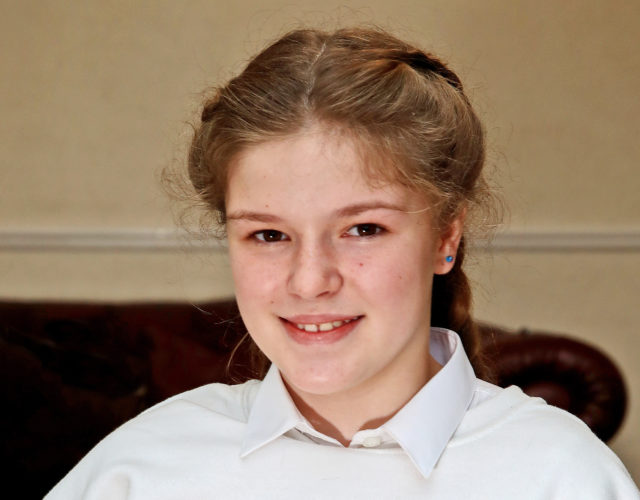 Now they say they are hoping another ticket might become available so another friend Harriet Taylor can go too.
Amelia said she now looking forward to going out to buy a dress, saying the only official guidance they have had so far is to "dress for a posh wedding".
She said she had no idea her mother had nominated her.
"I was speechless, I could not respond I was so excited," Amelia said.
"I can't get my head around it. I'm so excited to go."
Amelia, who is from Dronfield Woodhouse, near Sheffield, said she was a classic "Disney Princess" girl when she was younger, saying: "I used to go through 10 outfits a day".
Now she said: "I quite like dressing up and going out to weddings and places like that. I just quite enjoy looking all nice and fancy."
Her mother said: "She just can't wait to get dressed up."
"She knew nothing at all. She thought it was a joke, that someone had sent it as a joke.
"Now she can tell people, I think she'll be shouting it from the rooftops."
Ms Newton said she did not mind giving up her own chance of attending the royal wedding in favour of one of the friends they have met following the tragedy.
"We had quite a lot of families contact us and we've got really close to a couple and love them to bits," she said.
"I'd love to get another ticket so another girl could go and then all three can go."
She said: "I'm experiencing it through Amelia going and I think it's just nice that somebody who's really struggling and has lost so much can go and experience it and, hopefully, put a smile on her face."
Ms Newton said: "It just feels right, the right things to do.
"Sharon's looking forward to it and that's what matters. We'll spend a few days together down there.
"I'll go with Amelia as far as I can then I'll be standing at the street side like everyone else waving."
She said they were hoping to take some kind of memorial down to Windsor to represent the 22 people who died and look to put it in one of the gardens.
"It's a way of remembering," she said.
"We're quite happy to do that because what happened at Manchester should never be forgotten."
She said she nominated Amelia because of the difficulties she has overcome with help from counselling and her beloved three-year-old horse, Viktor, who, she said, has helped her through some of the hardest of times.
Ms Newton said that her daughter had had to cope with the death of her uncle and also her father suffering two heart attacks as well as the trauma of what happened in Manchester.
She said: "I'm just so proud of her. That's all I can say as a mum. I love her to bits and she's been inspirational."
Mrs Goodman said it was an "absolute privilege" to be asked to go.
She said: "I've formed a bond with Amelia and so have other relatives. She's just a pleasant, beautiful young lady. And courageous.
"It's just a privilege really, it's an honour."
She said Ms Newton's gesture in giving up her chance to go was typical of her selflessness.
Mrs Goodman said: "Lisa is such a warm, lovely person.
"She is a strong lady who's not just helped us but has helped other families. She is just selfless, kind. She's a really lovely lady."
She said it had been difficult to carry on following the death of her granddaughter but she was looking forward to getting dressed up for the wedding.
Mrs Goodman has set up a fund with her husband Steve in Olivia's memory which Amelia has helped support.
Liv's Trust CIO helps under-25s with their music and dance ambitions in Greater Manchester.