The Bank of England has kept interest rates on hold at 0.5%, but left the door firmly open for a rise in May as it revealed two policymakers voted for an immediate hike.
Minutes of the latest Monetary Policy Committee (MPC) meeting showed that two of the nine members voted to raise rates to 0.75% amid concerns over inflation as wage growth has started to pick up.
The Bank also revealed it expects the economy to take a "temporary" hit from the recent Beast from the East snow disruption, with early estimates among its staff suggesting growth may slow to 0.3% in the first quarter from 0.4% at the end of 2017.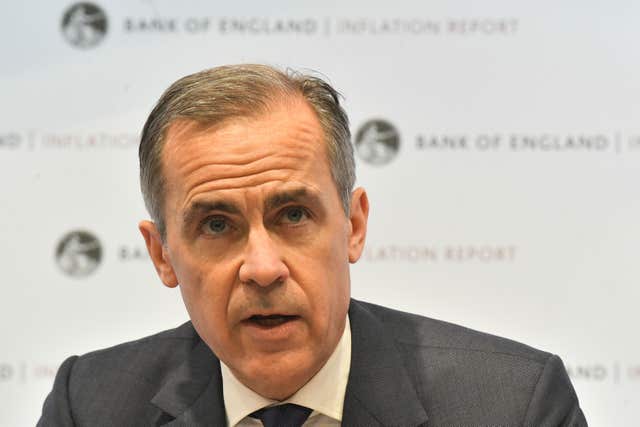 It added its "May forecast round would enable the Committee to undertake a fuller assessment of the underlying momentum in the economy".
The Bank said there had been "few surprises" since its last set of quarterly forecast last month, although it noted that inflation fell by more than it expected to a seven-month low of 2.7% in February.
But another steady increase in wage growth, to 2.8% in the year to January – the highest since September 2015 – meant inflationary pressures were building, it added.
For the two dissenters on the MPC – Ian McCafferty and Michael Saunders – this was enough to trigger the need for an immediate rate rise, according to the minutes.
The Bank said these policymakers believed a "modest tightening of monetary policy at this meeting could mitigate the risks from a more sustained period of above-target inflation that might ultimately necessitate a more abrupt change in policy and hence a greater adjustment in growth and employment".
The decision saw the first split vote on the MPC since rates were raised last November, from 0.25% to 0.5%.
Bank governor Mark Carney has already warned that rates will need to rise "somewhat earlier and by a somewhat greater degree" to get inflation back to target.
Experts widely believe rates will rise in May and possibly again in November, with another due in 2019, which would see rates climb to 1.25% next year.
However, this month's meeting comes amid signs that economic growth is struggling to pick up pace, with the snow impact hampering activity.
But the Bank stressed it believes "any snow-related disruption to economic activity in 2018 Q1 was likely to be temporary".
It had expected growth to remain at around 0.4% before the snow hit.
The pound enjoyed a short-lived rally against the euro, reaching the highest level since June 2017 past 1.15 euro at one stage, after the decision and minutes of the meeting.
Sterling slipped to 1.41 US dollars.
The Bank noted the recent Brexit transition deal at the rates meeting, but gave no comment on its effect on the economic outlook.
But economists believe it could add to the argument for raising rates sooner rather than later.
James Smith, an economist at ING, said a May rate hike was still firmly "in play", while Brexit talks could sway the case for a second rise in the autumn.
He said: "By alluding to the need for 'ongoing tightening', policymakers have kept the door open to a second rate hike later this year."
"But if Brexit talks – which are due to be wrapped up in October to allow time for ratification – get particularly noisy, then this could get in the way of a second rate rise in the autumn," he said.
Not all experts are convinced over a May rise, however, with Samuel Tombs at Pantheon Macroeconomics predicting they will wait until the summer.
He said: "We continue to expect activity and inflation data to surprise the Committee to the downside, ensuring that it waits until August to raise interest rates again."