A mother-of-four will spend Mother's Day at her sons' hospital bedsides, after the eldest bravely donated stem cells to his little brother.
Four-year-old Ollie Cripps, who was diagnosed with acute myeloid leukaemia in June last year, relapsed in November a month after finishing his chemotherapy treatment.
When doctors told the family he would need to have a bone marrow transplant, his six-year-old brother Finley stepped forward and was found to be a perfect match.
Parents Fiona Cripps, 26, and Lee, 28, who also have identical one-year-old twin daughters, said Finley has been unfazed by the fact he could have saved his brother's life.
Ms Cripps, from Sittingbourne, Kent, said: "He was more excited about getting a week off school."
There was just a one-in-four chance that one of Ollie's siblings would be a match, but all three were found to be.
As the eldest and because he was the same sex, Finley was chosen for the procedure.
Mr Cripps said: "He wasn't bothered. I don't think he understands the severity of what he's done, he doesn't.
"He's never once turned around and said to us, 'I don't want to do that, I don't want to have an operation."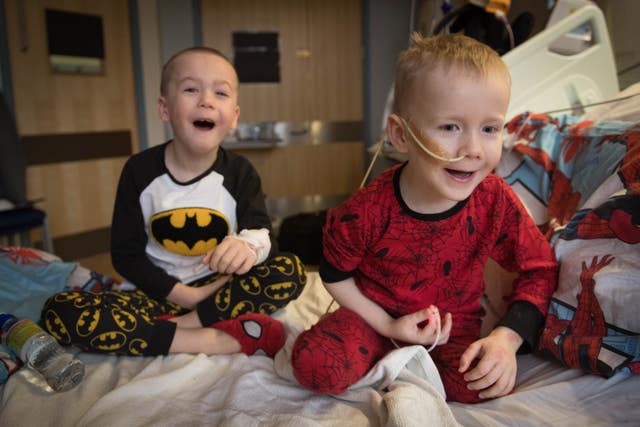 But he cheekily replied "what operation?" when asked how the procedure had gone.
Ollie also appears unaware of the severity of his illness.
"He knows he's not very well on the inside but that's it," Mr Cripps said.
"Finley knows Ollie's got cancer but he doesn't understand what it is."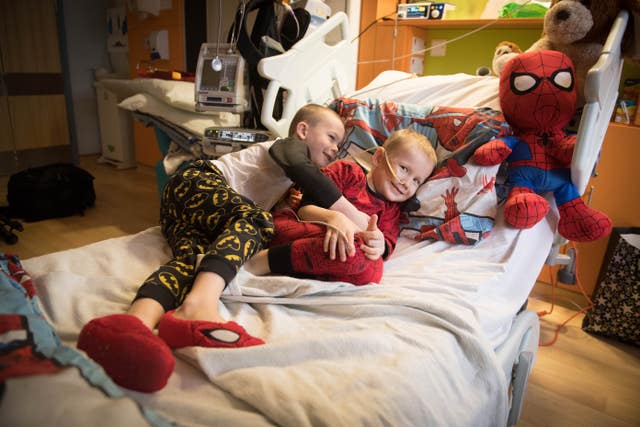 But with a weakened immune system, Ollie will be placed in isolation and the boys could spend more than three weeks apart.
"They are used to it now, which is horrible, but they are," Ms Cripps said.
"Do you know what I find sad?," Mr Cripps added.
"The other week I went to the toilet with Ollie – he was picking his tubes up. He was caught, but he untangled himself.
"And I looked at him and I thought, it's sad. It's sad that a little boy like that knows to untangle his wires that are coming out of his body. But he's adapted."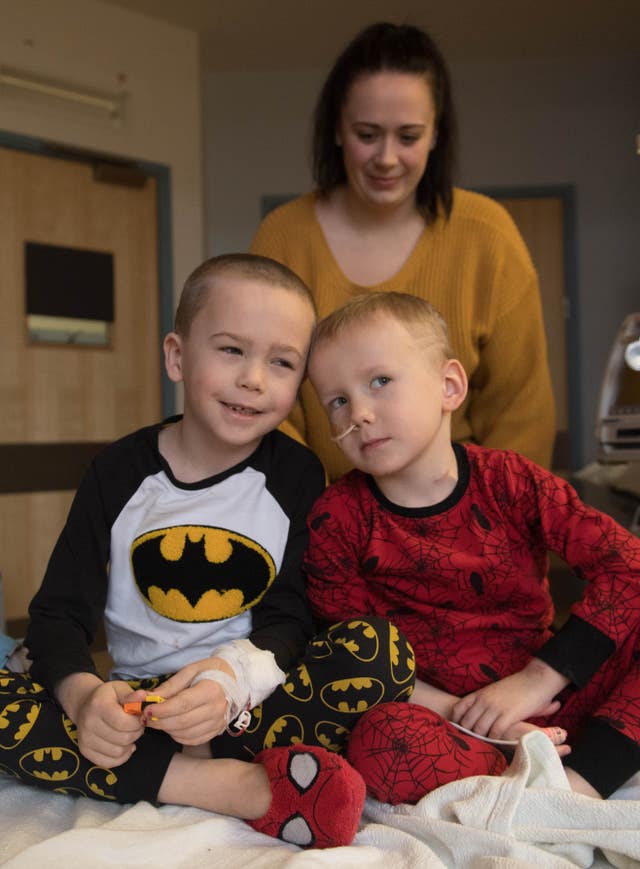 Ms Cripps will spend Mother's Day in hospital between Ollie and Finley's bedsides.
"For me, the perfect Mother's Day present has been a perfect stem cell match – I'm so proud of my boys," said Ms Cripps.
It is hoped Ollie will be able to return home in around eight weeks, depending on how the transfusion goes.
"It's going to be weird. This is normality, this is like a second home now," Ms Cripps said.
The family have raised more than £3,000 which has been donated to The Royal Marsden Cancer Charity-funded play specialists, who provide therapeutic activities to support children before they have procedures.