The Duke of Cambridge has said he is "disappointed and frustrated" at how the lives and futures of the UK's young people are still threatened by homelessness in one of the world's richest countries.
William's strongly worded comment on the plight of the nation's young rough sleepers came as Centrepoint, the homeless charity he supports as patron, staged an award ceremony recognising the achievements of those helped by the organisation.
Speaking at the Kensington Palace event, hosted by TV presenter Jonathan Ross, and attended by Centrepoint supporters Game Of Thrones actress Emilia Clarke and Downton Abbey creator Lord Fellowes, the Duke said: "More than ever, Centrepoint is reaching our society's most vulnerable.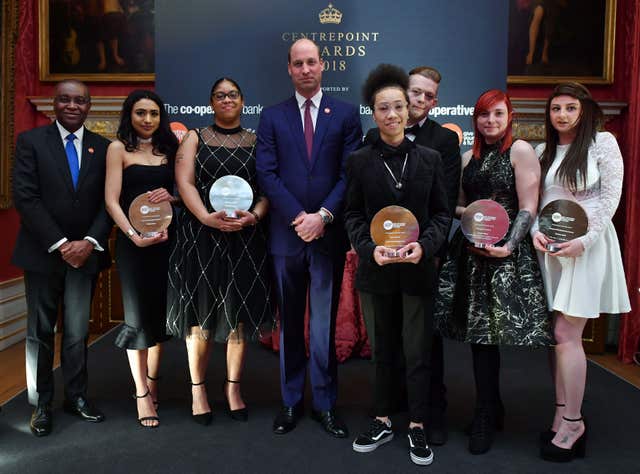 "A year ago, I heard just one of thousands of calls that have since been made to this vital service, which is helping young people take the first step towards a place of safety.
"However, for me, tonight is one of sharply contrasting emotions. Soon Centrepoint will be 50 years old.
"I feel immense pride in all Centrepoint has accomplished in that time, but with it, disappointment and frustration – frustration that in one of the most prosperous countries in the world homelessness is still putting the lives and futures of our young people at risk."
Figures released last month show the number of people sleeping rough in England increased by 15% in 2017.
The snapshot survey, released by the Ministry of Housing, Communities and Local Government, estimated 4,751 people slept rough on any one night – from 2010 to 2017 the estimates show an increase of 169% in the numbers of those bedding down for the night.
Clarke said after the awards ceremony: "I think that this organisation is incredible in everything it does and it's truly inspiring to hear the individual stories and what can be possible and what should be possible.
In a lighter moment William joked with one of the guests about the forthcoming addition to his family, as wife Kate is around six months pregnant.
He said: "Two is fine, I don't know how I'm going to cope with three, I'm going to be permanently tired."
Later the Duke told Raymond Stoner, boss of Anston Properties: "Our third child is due in April, I'm getting as much sleep as I can."
Mr Stoner said: "I gave him a little message for his darling wife – twins save time."
Among the winners was Claudette Shay, 26, who was given the Enterprise Award for being a role model to single mothers after overcoming being a homelessness pregnant woman, with Centrepoint's help, and going on to study at university and now working for the NHS.