A featherless penguin made famous when it had a wetsuit custom-made to protect it from sunburn has died at the age of 19.
Staff at Marwell Wildlife in Hampshire have described Ralph the Humboldt penguin as "simply unique" and spoken of their sadness at its death.
Ralph was born on New Year's Day 1999 and was moved to the UK from Germany's Nuremberg Zoo in 2006.
The penguin became famous when staff created a special suit for it from the leg of an adult wetsuit to protect it from the elements because it moulted faster than other penguins leaving it with sensitive
bald patches.
Then in 2013, Californian surf brand O'Neill designed Ralph a custom wetsuit in a sponsorship deal.
But eight months ago, Ralph was diagnosed with arthritis, an incurable degenerative age-related condition which was managed initially with medication.
A Marwell Wildlife spokeswoman said: "Taking all factors into careful consideration and in order to prevent any unnecessary distress or pain to Ralph, we took the difficult decision to euthanise him."
James Ellis, birds team leader, said: "It is very sad that we have had to say goodbye to Ralph, the oldest penguin in our colony.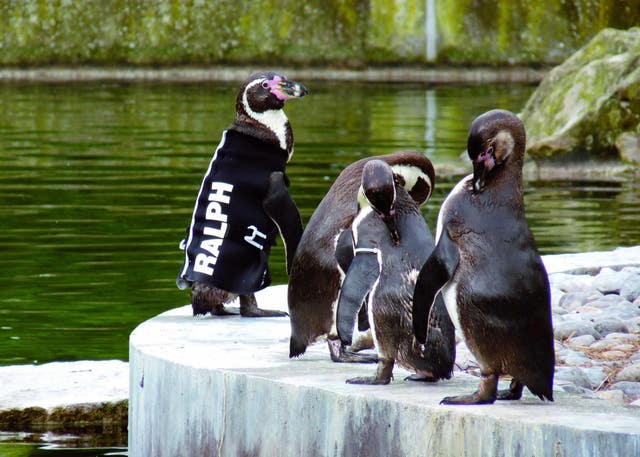 "Ralph had a long and happy life and everyone has wonderful memories of him."
Ralph and its partner Coral raised several chicks at Marwell, including Calippo, who remains in the colony.
Jan Michaelis, European marketing manager of O'Neill Wetsuits, said: "All of the team at O'Neill Wetsuits HQ are saddened to hear of Ralph's passing.
"We first helped Ralph by providing him with a custom made wetsuit in 2013.
"He has been considered a much loved and unique member of our team ever since.
"Wishing him an endless supply of fish, waves and peace up in penguin heaven."