The Prime Minister has urged Stormont's leaders to make one final push to strike a deal to salvage powersharing in Northern Ireland.
Taoiseach Leo Varadkar also held talks with politicians at Stormont, though notably he did not have a meeting with the DUP.
Mr Varadkar said he hoped a deal could be achieved later this week.
Mrs May, who met all the main parties at Stormont House on Monday afternoon, said the discussions were "full and frank".
"The DUP and Sinn Fein have been working hard to close the remaining gaps," she said.
"Some differences remain but I think there is the basis of an agreement here and I have been urging the parties to make one final push for the people of Northern Ireland."
Mr Varadkar said the differences were "not insurmountable". He expressed hope that Stormont's smaller parties – the Ulster Unionists, SDLP and Alliance – could be part of a new coalition executive.
"It is our strong view that an inclusive executive including as many parties as possible would be more sustainable and more beneficial for Northern Ireland as a whole," he said.
Relations have been strained between the DUP and Mr Varadkar's government over the Brexit process, but Ireland's deputy premier Simon Coveney urged people not to "read too much" into the fact that the main unionist party did not meet the Taoiseach at Stormont on Monday.
However, speculation has been growing that a deal between Sinn Fein and the DUP is imminent.
DUP leader Arlene Foster said the tone of the meeting with Mrs May was positive. Mrs Foster said she shared public frustration that the pace of progress had been slow.
"We have been engaged in three weeks of intensive talks with Sinn Fein building on the talks that have been going on for some time," she said.
"We recognise the frustration that is out there but good progress has been made and we will continue to work to look for more progress."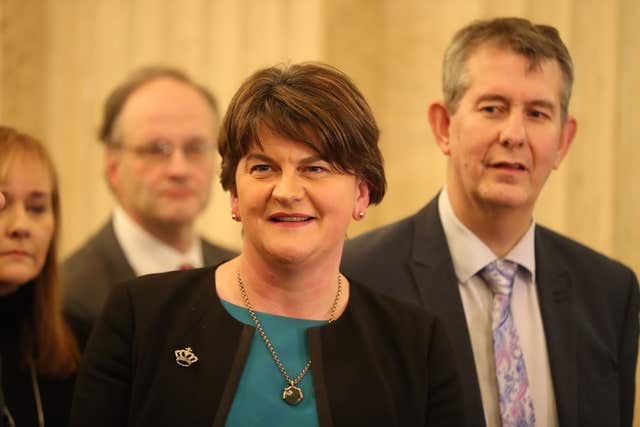 She said "we are not exactly there just yet", but added: "there is nothing insurmountable if there is the political will to reach an agreement".
The DUP/Sinn Fein-led coalition imploded last January amid a row over a botched green energy scheme.
That rift subsequently widened to take in long-running disputes over culture, social issues and legacy.
The main sticking point preventing the restoration of an executive is the Irish language.
Sinn Fein wants a standalone piece of legislation to protect speakers – an Irish Language Act – but the DUP has long insisted it would only countenance new laws if they also incorporate other cultures, such as Ulster Scots.
There was speculation over the weekend that three pieces of legislation – an Irish Language Act, an Ulster Scots Act and a broader Culture Act – could be a means to satisfy both sides.