The British public will get the chance to see Dippy the Diplodocus outside of London for the first time on Saturday.
The giant model dinosaur skeleton is beginning its three-year tour of the UK at Dorset County Museum in Dorchester – the home of the famed Jurassic Coast.
The 26-metre centrepiece has been on display since 1905 in the Natural History Museum in London, and never before has Dippy been publicly displayed outside the museum.
The species is named after Andrew Carnegie, a 19th-century industrialist and philanthropist who donated the cast to the Natural History Museum.
In its displayed pose, the skeleton is 26 metres long, 4.3 metres wide and 4.17 metres high.
Lorraine Cornish, from the Natural History Museum, said: "It's a really proud day, it has been a lot of work to plan this with all the venues.
"It took two weeks to put Dippy together and we are really, really pleased Dippy is going to open to the public on Saturday.
"Although the dinosaur has 292 bones, Dippy comes together in 86 pieces.
"We chose Dorset because we decided we wanted to go back in time to when Dippy was around, 150 million years ago, and the Jurassic Coast is the home of palaeontology.
"It is great for people to be able to come and see Dippy in a venue outside of London, it's free and there are a fantastic range of events to engage people, young and old with Dippy, the natural world and natural history."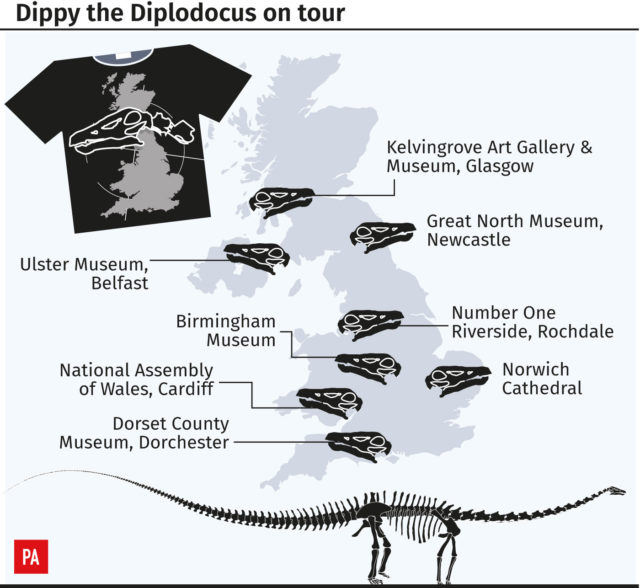 It is estimated that five million people will see Dippy on its tour.