The Prince of Wales swapped his chauffeur-driven limousine for an armoured Warrior vehicle when he visited a battled-hardened infantry regiment.
Sitting in the gunner's position and wearing combat fatigues, safety goggles and a helmet, he looked every inch the infantry officer and described the experience as "brilliant".
Earlier, during a reception for troops from the 1st Battalion, Mercian Regiment and their families, he highlighted the important role loved ones play in supporting officers and soldiers deployed on operations.
He said: "I know you're kept very busy, so on this occasion it's been a great pleasure to meet with the wives and other halves, and the partners and the small children and the older children.
"And apart from anything else, these regiments are real family … operations, and that's what makes them so special, I think.
"And of course each battalion marches with all your families, as it were, behind you.
Speaking during the event at Bulford Camp in Wiltshire, he added: "So I just wanted to use this opportunity to pay a particular tribute to all the families who I know provide so much support and encouragement and understanding to their other halves, who are so often carrying out all sorts of challenging operations, here or in different parts of the world."
Charles also met one of the Mercian's newest recruits – a ram called Private Derby XXXII.
Despite having a reputation for being feisty, the regimental mascot was happy to be stroked by the prince when he first arrived at the camp.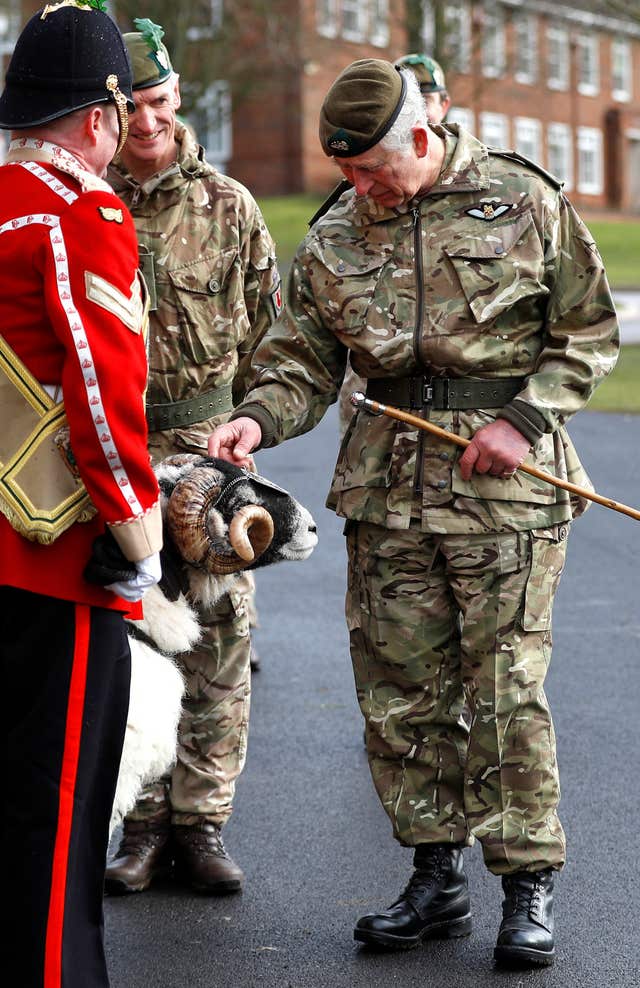 The vehicle sped off into the distance over a hill and returned across open ground where a demonstration of Challenger 2 tanks and Warriors attacking an imaginary foe had been staged.
At the end of his journey Charles made a point of walking to the front of the Warrior to thank the soldier driving and told him: "It goes at quite a rate – brilliant."
The Warrior Sergeant said: "I think he really enjoyed himself and was really surprised at how quick it can move."