Severe gales are bringing travel disruption across the country after gusts of more than 80mph battered parts of Britain overnight.
Drivers were warned to only travel if necessary while railway passengers faced severe delays as trains collided with fallen trees and other debris blocking lines.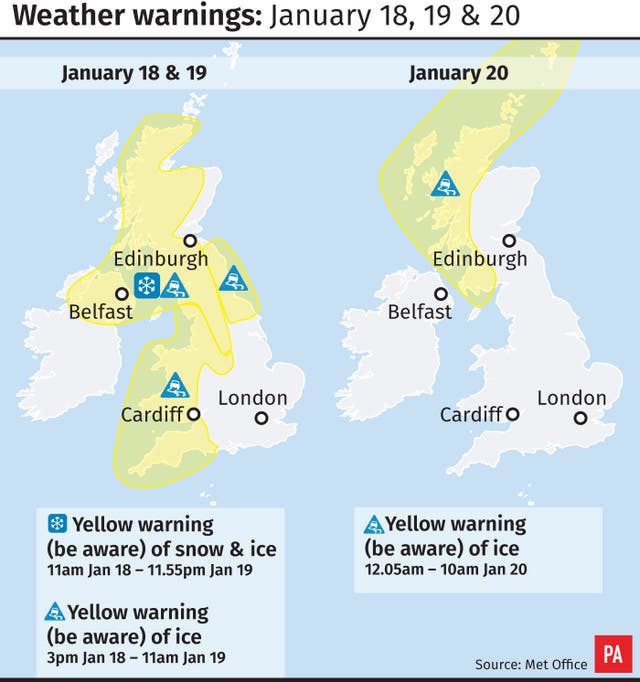 UK Power Networks said more than 5,000 customers were affected by power cuts in the Geat Yarmouth area with hundreds more homes impacted across the east of England.
Met Office Spokesman Charlie Powell said the worst of the blustery conditions was over, adding: "In the last couple of hours the wind speeds have already started to come down significantly."
Emergency services across the country received calls about weather-related incidents.
West Midlands Fire Service said no one was injured when a brick gable was blown off a house in the Stoke Heath area of Coventry.
Pictures posted on Twitter by crews at the city's Foleshill fire station showed debris on the ground near the three-storey property.
Derbyshire Police received a large number of calls regarding fallen trees blocking roads.
National Rail reported widespread weather-related delays, including disruption caused by a train hitting a tree near Lower Sydenham in south-east London, and another colliding with a fence on the line near Sheerness-on-Sea in Kent.
A tree also fell on to the line in the Deal area of Kent, while a freight train struck two sheds that had blown on to the track between Newtown and Welshpool in Wales.
National Rail said level crossing barriers between Chester and Wrexham had been damaged by high winds, with replacement road transport running between Chester and Shrewsbury.
Damage to overhead power cables blocked lines between Colchester and Ipswich, and Birmingham and Redditch.
Poor weather also delayed journeys to and from London King's Cross station after an object was caught in overhead electric wires between Peterborough and Stevenage.
During the night, temperatures dropped at low as minus 7C (19F) in Loch Glascarnoch while snowfalls continued to be topped up.
Eskdalemuir in Dumfries and Galloway recorded 36cm of lying snow, while Spadeadam in Cumbria, which escaped much of the snow on Wednesday, had 23cm, with up to 20cm on Wednesday night alone.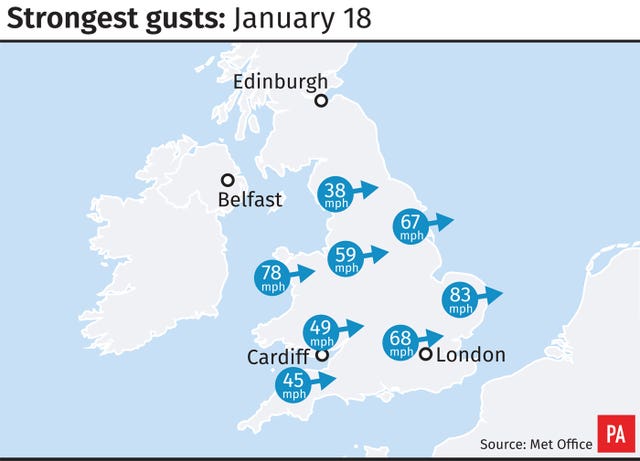 They said there is a high likelihood of disruption and delays on the roads.
Superintendent Calum Glenny said: "Despite some difficult weather conditions in the Dumfries and Galloway area which caused some disruption, the weather was not as severe as was first forecast.
"Thankfully, a significant number of motorists heeded the warnings which had been issued to avoid travelling on the roads and I'd like to thank them for doing so."