Workers on the majority of private sector contracts held by failed construction company Carillion will continue to be paid, the Insolvency Service said.
It announced that 90% of the company's private customers have indicated they want it to carry on providing services until new suppliers can be found and will provide funding to keep employees on.
The announcement came as a 48-hour period of support for firms working on Carillion's private sector contracts approached its end, with thousands of workers uncertain about their future.
The company's interim chief executive has revealed that Carillion had just £29 million in cash by the time it went bust, at a time when it was struggling under £900 million of debt and a £587 million pension deficit.
In fiery exchanges at Prime Minister's Questions, Mr Corbyn called on the Prime Minister to end the "costly racket" of contracting out public services to private businesses.
"These corporations need to be shown the door," said the Labour leader. "We need our public services provided by public employees with a public service ethos and a strong public oversight."
But Mrs May retorted:  "We're making sure in this case that public services continue to be provided, that workers in those public services are supported and taxpayers are protected.
"But what Labour oppose isn't just a role for private companies in public services, it's the private sector as a whole."
The Official Receiver has powers to recover any "unlawful or unjustified" payments made to Carillion executives, she said.
Mrs May revealed that Business Secretary Greg Clark was holding round-table meetings on Wednesday with affected banks, small businesses, trade bodies and unions.
And she welcomed agreements reached between Carillion's private sector service customers and the Official Receiver.
A spokesman for the Insolvency Service said all of these companies had been contacted over the past 48 hours, adding: "Over 90% of these customers have indicated that they want Carillion to continue providing services in the interim until new suppliers can be found and will provide funding which enables the Official Receiver to retain the employees working on those contracts.
"Work has paused on construction sites, pending decisions as to how and if they will be restarted."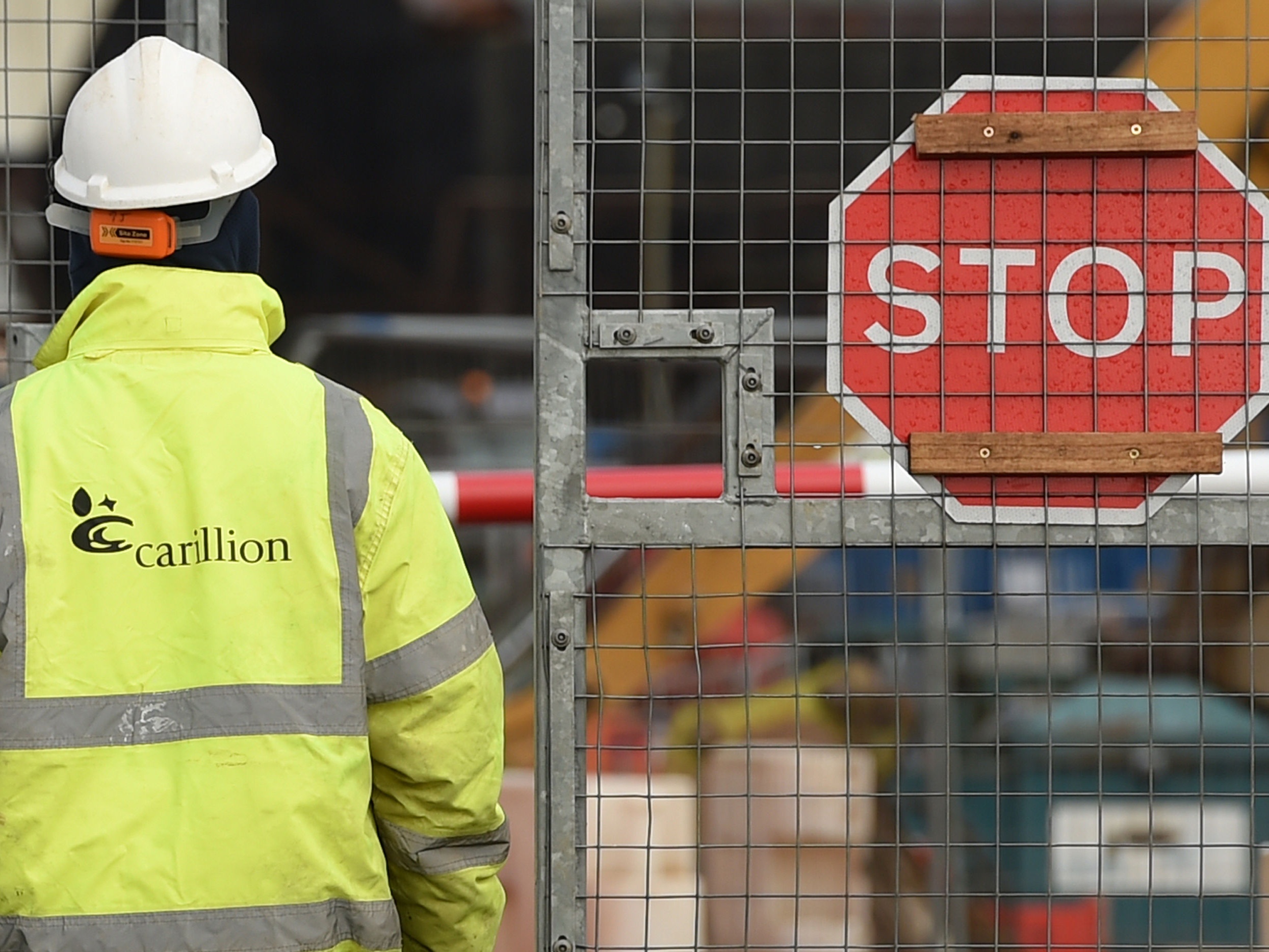 "Lenders are contacting customers and, where appropriate, are putting in place emergency measures, including overdraft extensions, payment holidays and fee waivers to ensure those facing short term issues can be helped to stay on track."
In High Court papers seen by the Press Association, Carillion's interim chief executive Keith Cochrane revealed the company made a "formal request" for support from the Government on December 31 following talks during the final months of 2017.
Up until as recently as Sunday, directors believed a "constructive dialogue regarding short-term funding" was under way in order to rescue the company, he said.
However, while discussions were ongoing, Mr Cochrane accused the Royal Bank of Scotland (RBS) of taking "unilateral action which in the company's view undermined the group's efforts to conserve cash".
He said the RBS asked for certain bank payments to be pre-paid, which had a negative impact on the company's liquidity by between £2 million and £20 million.
Two days later, on January 14, the Government denied the company's final request for help which led directors to conclude it was insolvent.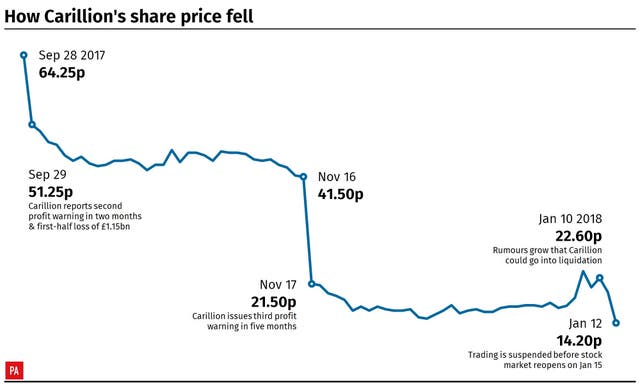 But its share price has plunged more than 70% in the past six months after a string of profit warnings.