A Premier League footballer is to stand trial for allegedly assaulting a nightclub doorman with his belt.
Crystal Palace midfielder Jason Puncheon appeared at Guildford Magistrates' Court in connection with the incident in Church Street, Reigate, Surrey, in the early hours of December 17.
The 31-year-old, of Kingswood, had been partying with friends at nearby nightclub Mishiko beforehand.
Puncheon arrived at court walking with the aid of crutches, having been injured in a match against Manchester City on Sunday.
He entered not guilty pleas to a section four public order offence, causing fear or provocation of violence and a second charge of common assault.
A third charge of possession of an offensive weapon was withdrawn by the prosecution.
Darren Matravers, prosecuting, told the court: "The defendant is caught on CCTV removing the belt from his trousers then approaching a group of people and swinging that belt.
"At that stage it doesn't appear the belt connects with anybody.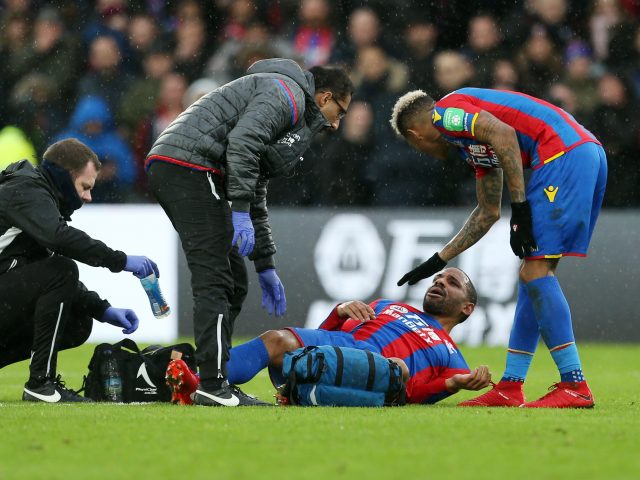 "By committing that act he effectively is causing the fear of immediate violence and hence the section four public order charge against him.
"He walks away, then returns to the group still with the belt in his hand and again he swings the belt, and the second time the belt buckle is at the free end and that connects with the back of the victim's head who has been identified as Paul Mendy, a member of the security staff at the location.
"Fortunately he wasn't injured after receiving the blow to the head."
Mr Matravers said police officers attended and reported that Puncheon continued to use "aggressive behaviour".
Gary Bloxsome, defending, said the CCTV footage described by the prosecutor was a "snapshot" and did not show the events leading up to the incident.
He said it did not show "the defendant being picked upon, this defendant having difficulties within the club, then having additional difficulties.
"What we are being given is a snapshot as to what the Crown said was his conduct, what we need to look at is what was happening immediately prior."
He said Puncheon denied the assault or using behaviour likely to cause fear of violence.
Chairwoman of the magistrates Ann Terry sent the case for trial to be heard at Staines Magistrates' Court on June 4 and released him on bail with the conditions not to contact Mr Mendy or enter the Mishiko nightclub.
She told Puncheon, who was sitting in a chair with his injured leg on another chair during the proceedings: "I am not asking you to stand.
"The trial will be 4th June, you will need to be within the court precincts by 9.15am to speak with your representative, until that time you will remain on conditional bail."