The Traitors is going to be a "different game" when the psychological reality TV show returns to the BBC, its production company has said.
Series two has had more than 40,000 applications, according to Studio Lambert, following the show proving a hit over the Christmas period last year when 22 strangers competed for a £100,000 prize at a castle in the Highlands.
The original format saw groups secretly divided for "the ultimate game of detection, backstabbing and trust".
On season one, four players were made secret traitors and were tasked with "murdering" the other faithful contestants while the latter had to root out the traitors and "banish" them.
When asked about the second instalment of the programme at Tuesday's Wales Screen Summit, Toni Ireland, executive producer at Studio Lambert, said: "The difficult second album (is what) we're calling it.
"We're really excited about doing series two, we can't give too much away at the moment, obviously, but we're really looking forward to it.
"I'm excited because the game's going to be different, people have watched the show now.
"When this cast came to us, they had never seen the show, they were just playing with their gut instinct and just going: 'This is how I'm going to play this game'.
"Now, I imagine a (new) cast will have seen it, they're going to come to us with pre-planned ideas of the way they think it's going to go, and obviously it's our job to make sure that they're always kept on their toes and they don't know what's around every corner."
On Sunday, the series took home the TV Bafta award for the reality and constructed factual category along with an entertainment performance gong that went to the show's host Claudia Winkleman.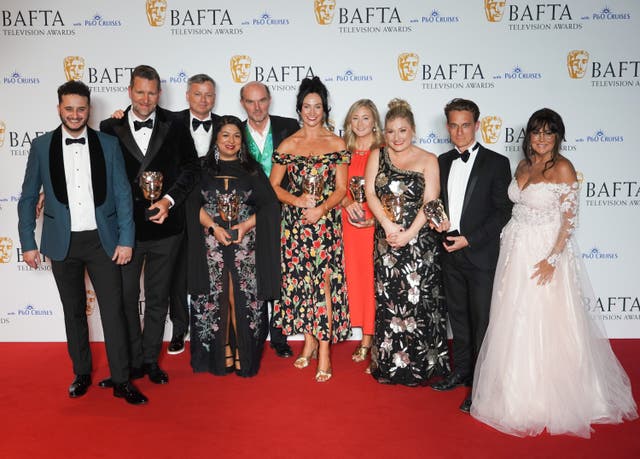 "I checked in with our casting producers this morning…(we'll) look at 40,000."
She added: "We're still (going to) be going out there and looking and targeting and finding people who wouldn't necessarily have you know (thought to) apply.
"We're always looking at different ways to make sure we've got the very best people coming to the series."
Syeda Irtizaali, the editor of unscripted at the BBC, also confirmed that Strictly Come Dancing presenter Winkleman, 51, would be returning for a second series.
She added: "I'll tell you the tagline for series two, which is 'You think you know how to play the game, you don't know anything'. That's all we're (going to) say."