Striking members of the Writers Guild of America (WGA) have said they will not picket next month's Tony Awards telecast, clearing a thorny issue facing show organisers.
The union last week denied a request by Tony organisers to have a waiver for their June 11 glitzy live telecast.
It reiterated that in a statement released late on Monday, saying the WGA "will not negotiate an interim agreement or a waiver for the Tony Awards."
But the WGA gave some hope that some sort of Tony show might go on, saying organisers "are altering this year's show to conform with specific requests from the WGA, and therefore the WGA will not be picketing the show".
What is being altered was not clear, but it may be to allow a non-scripted version of the Tonys to go on.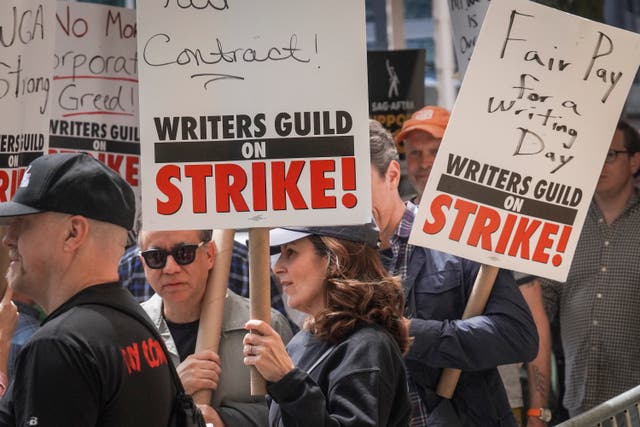 The union — representing 11,500 writers of film, television and other entertainment forms — has been on strike since May 2, primarily over royalties from streaming media.
While the WGA does not represent Broadway writers, it does represent writers who work on the Tonys telecast.
Tony organisers faced a stark choice after the request for a waiver was rejected: either postpone the ceremony until the strike ends or announce winners in a non-televised reception that would ask nominees to cross picket lines.
The decision on Monday means the possibility of a third way: a non-scripted show that leans heavily on performances.
That is largely what happened during the 1988 awards, which were broadcast during a WGA walkout.
Before the WGA decision, a two-part Tony ceremony had been planned, with a pre-show of performances streaming live on Pluto, and the main awards ceremony broadcasting live on CBS and streaming live to premium-level Peacock members.
The big first awards show during the current strike was the MTV Movie & TV Awards, which had no host and relied on recycled clips and a smattering of pre-recorded acceptance speeches.
The strike has also disrupted the PEN America Gala and the Peabody Awards, which celebrate broadcasting and streaming media, on Monday cancelled its June 11 awards show.