Mae Muller has spoken of her nerves ahead of the Eurovision Song Contest at a "magical" opening ceremony.
The 25-year-old singer met fans as she walked the Turquoise Carpet in Liverpool on Sunday, along with the 36 other acts due to take part in the contest.
"I just feel really honoured to be able to be a part of it and I feel like being able to see everyone that has come out, it just makes it even more magical.
"The nerves are there. They're there, they're having a little party inside but I'm just trying to stay focused, focus on the positives and try and enjoy it."
Wearing a powder blue body-con hooded dress, Muller said there was a "bit of pressure" in deciding what to wear for the occasion.
She added: "But I find it fun. I feel like women, we've got enough pressure put on us so I'm like, we might as well have fun with the outfits.
"If I like it, that's all that matters."
In an interview with The Sunday Times, Muller admitted she is keen to do well in the competition but that it has been "non-stop for two months", describing it as "like boot camp".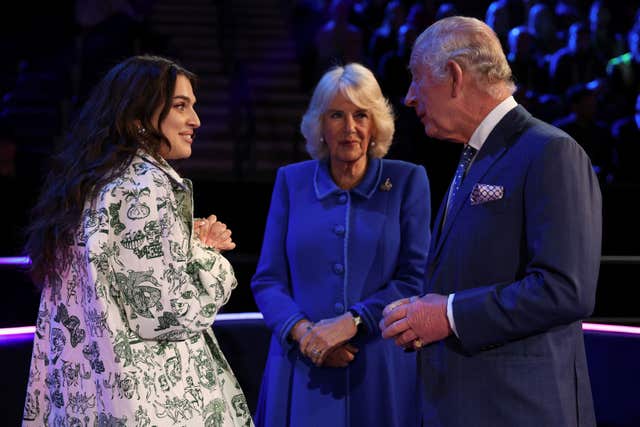 In the interview, Muller also reflected on how the evolution of the music industry towards streaming and viral moments has added extra strain.
She told the newspaper: "My label said not to rush. I came just before TikTok was a thing, so I didn't need viral success overnight.
"They wanted to develop me and that is a dying idea because after TikTok took over it's all about how fast you can go. That's sad.
"The whole point of a label is to give you time, but now they don't sign anyone unless they've had a viral hit already."
She added: "It's no longer: 'My song is on the radio. I've made it.' There are a lot of boxes to tick.
"It depends on what your version of success is, but it is weird. I'm sat at home with seven million monthly listeners and think: 'But how well is it actually going?' It can be jarring."
Despite the challenges, she said she does feel that things are changing within the industry to allow women to be more vulnerable.
"Music is about what sells and labels are a business. It used to be: 'Sex sells. Nobody wants to hear about crying and feeling.' But it is changing," she said.
"I wanted to be honest about my vulnerability. Women are told, especially in music, that we have to be a good role model. But you don't have to be that all the time."