Kate Garraway has praised Sir Elton John for his kindness and support after he dedicated a song to her husband Derek Draper during his show at London's O2 Arena.
The Good Morning Britain presenter's husband fell seriously ill with Covid-19 in March 2020 and has suffered long-lasting damage to his organs and requires daily care.
Garraway has since created two documentaries detailing her family's life as former political adviser Draper battles the long-term effects.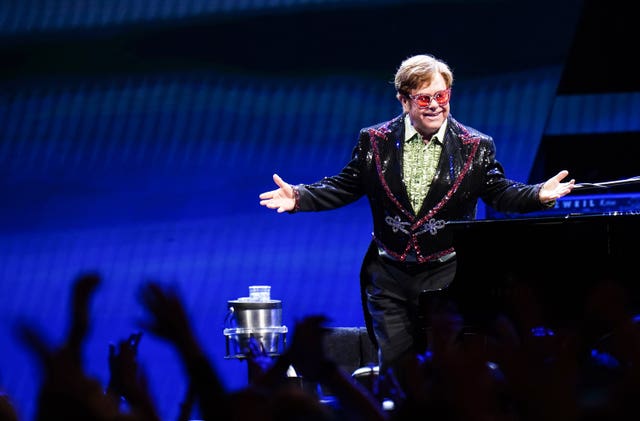 Garraway told Smooth Radio: "Right up to the last minute, I wasn't sure if it would be possible to get Derek there.
"It took weeks of planning and just days before, it looked like he would be too sick to attend. Even on the journey there, he seemed so weak.
"But as soon as we got into the stadium and Elton went on stage, he started weeping tears of joy, and squeezed my hand so tightly."
Garraway said her husband refused to wear ear defenders for an hour so he could hear the music but "at one point it seemed it might be all too much for him" and "he started shaking".
She continued: "His nurses and I took him outside the hall to let him have a moment to stretch and relax in the dark and silence.
"After a while, I asked him if it was time to go and he said, 'No, want to go back', so we gave him ear defenders to reduce the stimulation and wheeled him back to the concert.
"It must have been fate as that was the exact moment Elton suddenly dedicated Don't Let The Sun Go Down On Me to Derek and his journey."
During the dedication, Sir Elton said the couple had been "through hell" and described them as "inspiring".
He added: "To say they've been through a lot is an understatement… they've never given up. I'm so thrilled they're here, I can't believe they are here."
Garraway said: "We were all in tears, the kids, Derek and even the nurses. It was completely unexpected.
"People around us were so lovely and started clapping which was an extraordinary moment we will all treasure forever and Elton made it possible.
"Derek has been stuck at home for so long, so for him to experience that joy and be part of so many people's amazing evening was just magical."
Garraway said Draper had been "exhausted" since the concert and was back in hospital for treatment.
She added: "But his spirit is lifted and we'll always have that special moment as a family, whatever the future holds.
"I can't thank Elton and David enough. They are such kind people and have been so supportive to us all over the last three years.
"We have been surrounded by so much kindness from people everywhere. It really keeps us going through the hard times. We're just bursting with gratitude."