Paul O'Grady has been remembered as "one of the greatest drag artists the UK has ever seen" at a south London venue where he found mainstream success.
Wednesday night's show at the Royal Vauxhall Tavern (RVT), in Vauxhall, saw a minute of raucous applause for the TV star, instead of a typical minute of silence.
O'Grady died "unexpectedly but peacefully" on Tuesday evening at the age of 67, his partner, Andre Portasio, said in a statement.
After touring the north of England with the character, he settled into a solo residency at the RVT, before transitioning to broadcasting and going on to host a number of popular television programmes.
On Wednesday, RVT host Michael Twaits, told a packed out audience that O'Grady had been "an absolute legend of the community".
"Today we lost one of the greatest drag artists the UK has ever seen, and it is this building, this building was where it happened," he said.
"Eight years of doing solo shows… and also doing shows like tonight, introducing new talent to the LGBT+ scene. Paul O'Grady was an absolute legend of the community."
He added: "It was around raising up the community, and when you move from a stage like this into the mainstream, when you move into breakfast f****** television… and still stay true to yourself, stay true to your queer self, and stay true to your working class roots."
Twaits told the audience "a trailblazer and a legend has left us" before leading them in a round of applause for O'Grady.
"Obviously a moment of silence is polite… but I don't think a moment of silence is right. I think this is a moment to applaud, a moment to love, a moment to cheer," he said.
Reference to O'Grady's time at the RVT was made earlier on Wednesday in the House of Commons, with MPs highlighting the impact of his work on the LGBT community.
Sir Chris Bryant told the House: "I don't know whether the Deputy Prime Minister ever met Lily Savage or has ever spent a night out at the Royal Vauxhall Tavern, but… I can take him some time if he wants to go?"
As MPs erupted in laughter, the Labour MP added: "Her alter ego, Paul O'Grady, campaigned acerbically and hilariously for elderly people, for care workers, against oppression of every kind.
"Isn't it time we in this country celebrated our naughty, hilarious drag queens and comics of every kind who inspire us to be a better and more generous nation?"
Dominic Raab, who was filling in for Rishi Sunak during Wednesday's Prime Minister's Questions, accidently referred to O'Grady as "Paul Grayson", before correcting himself and describing him as an "incredible comic".
Tributes also came from friends, fans, charity organisations, and fellow celebrities, as well as the Queen Consort.
The stand-up comedian, who has come out as gender fluid, told PA: "The fact he was out and openly gay, was cool and everyone, everyone began to calm down, because, obviously, other people who are LGBTQ came out over the years, but he was a good part of that.
"He was just very human … It's great that he added so much to culture and existence and humanity in the United Kingdom, and that resonates around the world."
Dog treats and flowers were placed outside the TV star's farmhouse in Kent, with residents describing the well-known animal-lover as an "inspiring gentleman" and a "wonderful man".
O'Grady's life-long love of animals shone through his charity work and as the presenter of ITV's award winning show For The Love Of Dogs.
The broadcaster changed its schedule on Wednesday evening to re-air a special one-off episode of the show For The Love Of Dogs where he was joined by Camilla, during which they had marked the 160th anniversary of Battersea Dogs and Cats Home.
The royal family's official Twitter account posted an image of O'Grady with Camilla, captioned: "Deeply saddened to hear of the death of Paul O'Grady, who worked closely with Her Majesty in support of @Battersea_, providing lots of laughter and many waggy-tailed memories."
In the village of Adlington where he lived, personal messages were left outside his home, one of which read: "Farewell Paul… and thanks for all the #PogDogs", in reference to the show.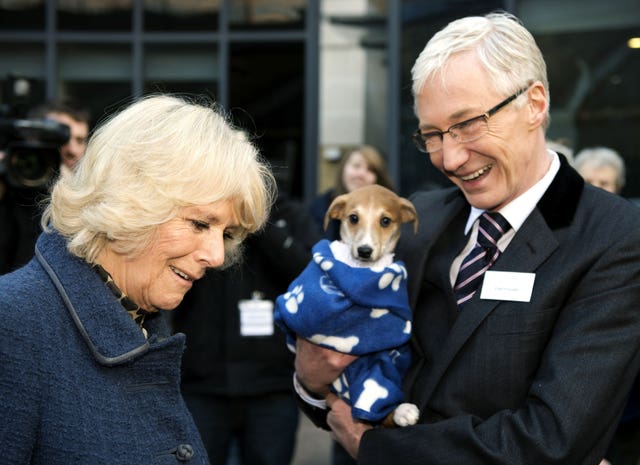 The organisation's chief executive, Peter Laurie, said: "Battersea will forever remember Paul as a devoted animal lover with the biggest heart, who fell head over heels in love with every dog he met at our centres.
"Paul will always be associated with Battersea and we are truly saddened to have lost such a true friend and huge part of our charity."
O'Grady was made an MBE in the 2008 Queen's Birthday Honours for services to entertainment.
He attended the ceremony with his daughter, Sharyn Mousley, his child from a brief relationship he had when he was 17.