Sir Brian May has said he could go on tour again this year as he was awarded a knighthood by the King at Buckingham Palace.
The Queen guitarist, 75, is responsible for some of the biggest and best-known riffs and solos in popular music, on songs such as We Will Rock You, Bohemian Rhapsody and One Vision.
Sir Brian may continue rocking in 2023 after the King presented him with his gong on Tuesday morning.
He told the PA news agency: "We're thinking about touring, I can say that.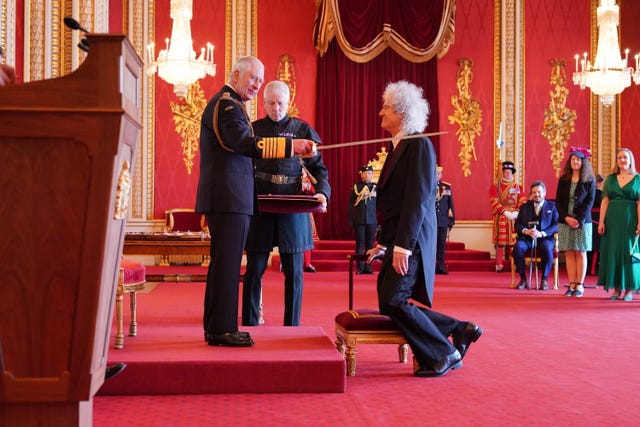 "It's not been an easy road and there's been times I thought I would never do it again.
"But we all seem to be OK so we're looking at doing some touring, and of course we tour at the top level and it's very high energy and high demand on your fitness.
"If we don't go out until October or whatever I'll be working on my fitness from now on."
Sir Brian, alongside late frontman Freddie Mercury, bassist John Deacon and drummer Roger Taylor, scored numerous number ones during Queen's heyday, as the band became one of the best live touring acts in the world.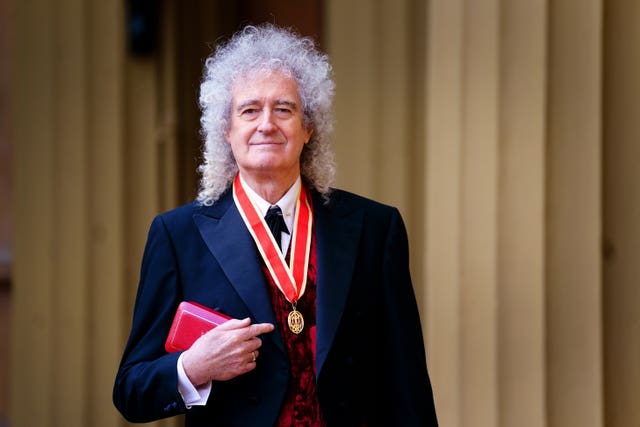 Sir Brian went on: "I am very happy, smiling from ear-to-ear, particularly because it was the King, which means a lot.
"We've had a certain amount of contact over the years and we're of an age, so I have a strong feeling for him and it was a lovely moment.
"We discussed the fact that we are of an age and he was wondering if my knees were holding out for the kneeling part of the ceremony. I said: 'Yes, just about.'
Sir Brian is no stranger to Buckingham Palace, having performed during the Golden Jubilee in 2002, playing a solo guitar version of God Save The Queen from the roof of the famous royal residence.
In June last year he performed with Queen at the Platinum Jubilee, where the late monarch tapped the beat of We Will Rock You onto a teacup at the end of a famous sketch featuring Paddington Bear – leading into a live performance of the song.
Speaking about this, he added: "During the rehearsal period I was coming through quite often, lingering among the paintings.
"And on the day pretty much none of it worked that morning, so there's a lot of scrambling around and scratching of heads and I only actually got to hear myself and the orchestra about 10 minutes before the actual performance, it was pretty hair-raising but very exciting."
Also recognised was former Treasury permanent secretary Sir Tom Scholar, who becomes a Knight Grand Cross of the Order of the Bath, and the UK's ambassador in Kyiv, Dame Melinda Simmons, who received a damehood for her services to British foreign policy.