Up to £8.6 million of funding for Edinburgh's festivals is expected to be announced in the UK Government's spring budget on Wednesday.
Some of the funding may go towards creating a permanent headquarters for the Fringe festival, which draws thousands of performers to Scotland's capital each summer.
Chancellor Jeremy Hunt is expected to announce the money when he delivers the UK Government's Spring Budget on Wednesday.
Scotland's festival economy contributes more than £300 million a year to the UK, and the Chancellor is expected to outline his ambition to protect the festival economy and create jobs in Scotland.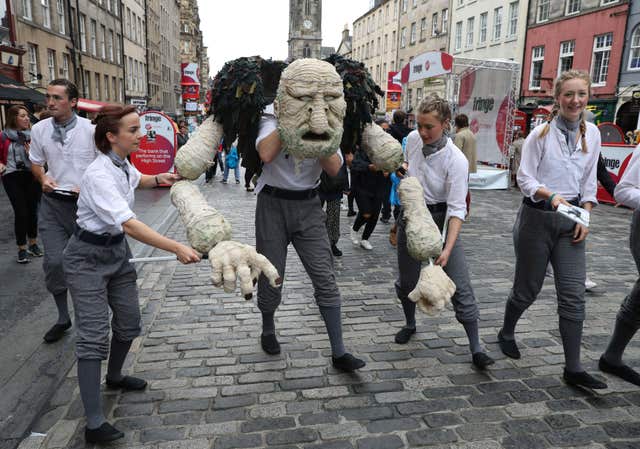 "Millions of people flock to Edinburgh from all over the globe for its festivals, creating opportunities for incredible comedians, musicians, artists and more, as well as thousands of jobs each year – all contributing immensely to the UK's shared economy."
It is hoped the investment will improve the sector's resilience and maximise opportunity across the UK.
Scottish Secretary Alister Jack said: "This is fantastic news for Scotland. Our vibrant arts sector – with the Edinburgh Festivals at its heart – is rightly renowned internationally and makes a huge contribution to our economy and cultural landscape.
"The UK Government has consistently championed the sector, including with £97 million of Covid support, and £10 million for the Dunard Centre, Edinburgh's first dedicated new space for music and the performing arts in 100 years.
"Edinburgh is a global centre for the arts and this funding will help the Festivals continue to thrive and grow for many years to come."
Other festivals which take place in Edinburgh include the Edinburgh International Book Festival and festivals of art and jazz.
The 76th event will take place from August 18 to 23 in a special one-year iteration as part of the Edinburgh International Festival (EIF), with Screen Scotland remaining in place as the EIFF's primary public funder.
UK Culture Secretary Lucy Frazer said: "Countless stars get their big break at Edinburgh Festivals and this funding will help us safeguard a future where upcoming British talent can capitalise on the opportunities on offer.
"Edinburgh is at the heart of our international position as a world leader in the creative. sectors and I'm delighted that we can help the festivals grow and thrive."
A Scottish Government spokesman said: "Edinburgh Festivals continue to be one of Scotland's world-leading cultural brands and the Scottish Government will continue to do all we can to support the festival and wider culture sector.
"Scottish ministers have been urging the UK Government to recognise the valuable role Scotland's culture sector plays to the Scottish and UK economy and so any additional funding from the Spring Budget would be welcome.
"The Scottish Government is awaiting further details from the UK Government.
"Given culture is devolved, ministers would be disappointed if the UK Government did not engage in advance to ensure all public funding – Scottish and UK – was aligned to deliver maximum support for the sector which is facing considerable financial challenges as a result of UK inflation, Brexit and the ongoing impacts from the Covid pandemic."