Alan Shearer and Ian Wright have announced they are boycotting Match Of The Day this weekend over the BBC's decision to stand Gary Lineker down from the show.
The corporation said on Friday that it had "decided" Lineker would take a break from presenting the highlights programme until an "agreed and clear position" on his use of social media had been reached.
Lineker, 62, has been embroiled in a row over impartiality after comparing the language used to launch a new Government asylum policy with 1930s Germany on Twitter.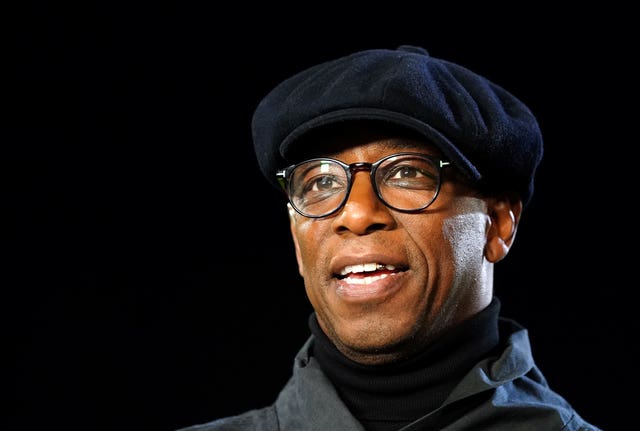 "Everybody knows what Match of the Day means to me, but I've told the BBC I won't be doing it tomorrow. Solidarity," he said.
Former footballer and pundit Shearer followed shortly after, tweeting: "I have informed the BBC that I won't be appearing on MOTD tomorrow night."
Retired England goalkeeper Ben Foster and Soccer Saturday presenter Jeff Stelling both expressed their support for the move.
Commenting on Shearer's Tweet, George Lineker, the son of Gary, said "what a man" and then added in a separate Tweet: "RIP MOTD tomorrow."
Former Arsenal and England player Alex Scott, who is a sports pundit for the BBC, has also appeared to rule herself out of presenting the sports programme on Saturday.
Scott tweeted a Gif of US politician Bernie Sanders saying "Nah! Not me" with the caption: "FYI…"
Announcing the decision regarding Lineker on Friday, a spokesperson for the BBC said the broadcaster had been "in extensive discussions with Gary and his team in recent days. We have said that we consider his recent social media activity to be a breach of our guidelines.
"The BBC has decided that he will step back from presenting Match Of The Day until we've got an agreed and clear position on his use of social media.
"When it comes to leading our football and sports coverage, Gary is second to none.
"We have never said that Gary should be an opinion-free zone, or that he can't have a view on issues that matter to him, but we have said that he should keep well away from taking sides on party political issues or political controversies."
It is not yet clear who will stand in for him during Saturday's edition of Match Of The Day.
According to Channel 5, presenter Dan Walker messaged Gary Lineker asking: "What is happening. Are you stepping back?"
Lineker responded: "No, they've told me I have to step back."
Ex-BBC Newsnight host Emily Maitlis, who was herself reprimanded by the BBC for sharing a tweet the corporation viewed as "controversial", said her former employer could now face a "much, much bigger battle".
"I'm not sure when they suggested to Gary Lineker he step back from (Match Of The Day) the BBC realised it might be starting a much much bigger battle," she tweeted.
"Ian Wright refusing to present on Saturday. In the name of solidarity."
Labour condemned the BBC's "cowardly decision" to stand Lineker down.
A party source said: "The BBC's cowardly decision to take Gary Lineker off air is an assault on free speech in the face of political pressure.
"Tory politicians lobbying to get people sacked for disagreeing with Government policies should be laughed at, not pandered to. The BBC should rethink their decision."
Channel 4 News presenter Krishnan Guru-Murthy said was "hard to see Lineker coming back now".
The journalist tweeted: "Presumably BBC will be asked to explain which of its guidelines were broken and why other regular presenters, contributors, comedians, actors who tweet political views are not in breach."
Piers Morgan described the BBC's decision as "pathetically spineless".
He added: "I now demand the BBC suspend every presenter who has made public comment about news or current affairs – starting with Sir David Attenborough and Lord Sugar."
The row was sparked by Lineker's response on Twitter to a Home Office video in which Home Secretary Suella Braverman unveiled the Government's plans to stop migrants crossing the Channel on small boats.
The ex-England striker wrote: "There is no huge influx. We take far fewer refugees than other major European countries.
"This is just an immeasurably cruel policy directed at the most vulnerable people in language that is not dissimilar to that used by Germany in the '30s."
It is the latest controversy to hit the corporation after its chairman, Richard Sharp, became embroiled in a cronyism row over him helping Boris Johnson secure an £800,000 loan facility.
BBC director-general Tim Davie warned staff about their use of social media when he took on the role at the end of 2020, and guidelines around social media use have since been updated.
Staff were told they need to follow editorial guidelines and editorial oversight in the same way as when doing BBC content.
Lineker is a freelance broadcaster for the BBC, not a permanent member of staff, and is not responsible for news or political content so does not need to adhere to the same rules on impartiality.