Jimmy Kimmel joked that the decision to have a champagne-coloured carpet at this year's Oscars "shows how confident we are that no blood will be shed".
The US comedian, who will host the 95th annual ceremony on Sunday, was speaking at the official rollout of the event carpet in Los Angeles on Wednesday.
Kimmel was joined by the Academy's chief executive Bill Kramer, and its president Janet Yang.
"Thanks so much for asking me to do this, I'm honoured, I'm thrilled, I'm excited – mostly about the carpet. We got it for a very good price downtown," he said.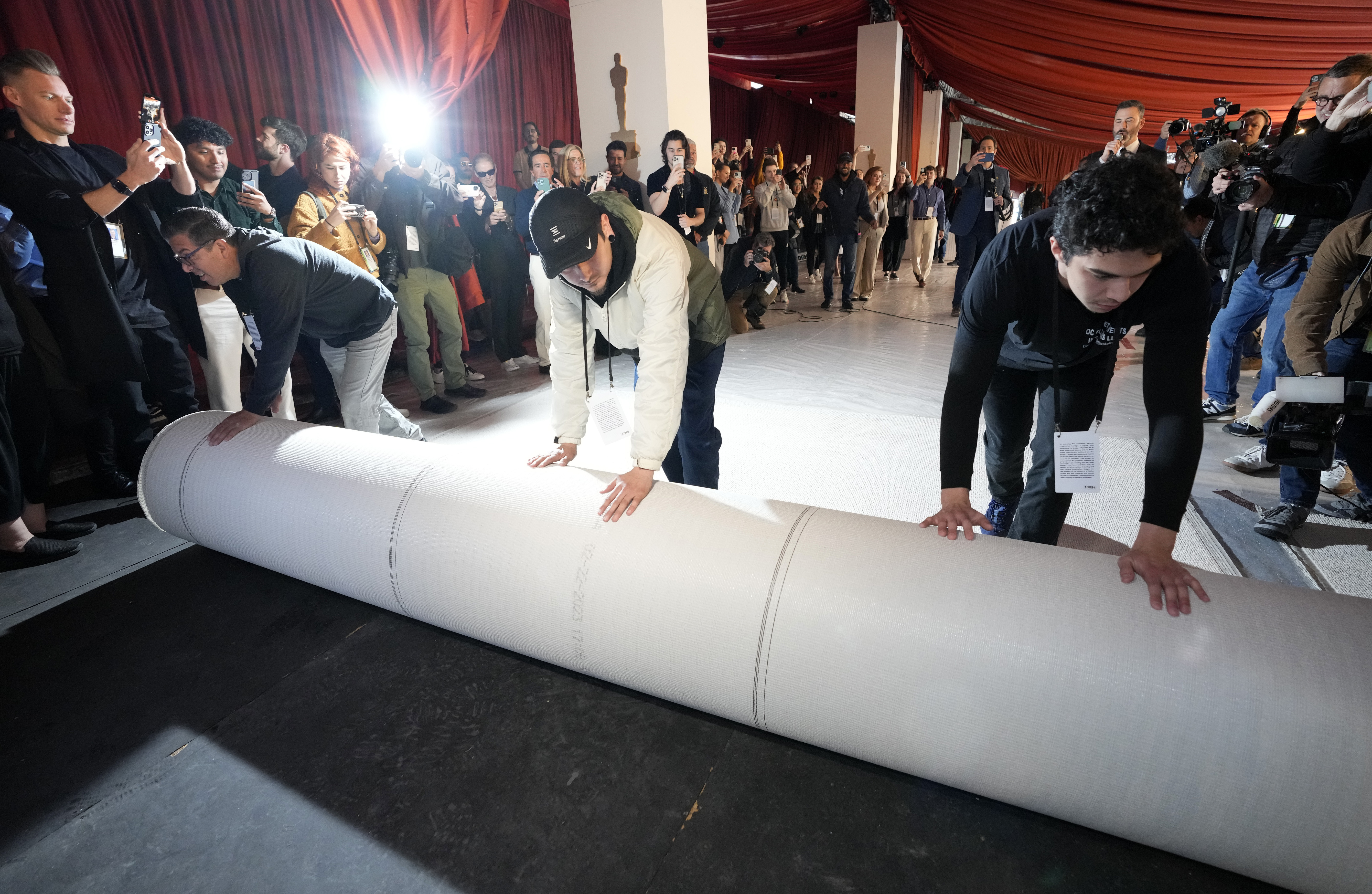 "I think the decision to go with a champagne carpet rather than a red carpet shows how confident we are that no blood will be shed."
He added: "We promise that this is going to be a fun show. People have been asking us, can we make the show longer and yes, it is going to be longer.
"Hopefully it won't feel long because we have a lot of great stuff in store, we have a lot of great plans, we have some great music performances – I've been working on jokes for days now."
Previously announced performances include those by best song nominee Rihanna and US rock star Lenny Kravitz, who will perform during the ceremony's In Memoriam segment.
Kimmel praised the production workers as they rolled out two sections of the carpet, joking: "This has got to be the dumbest thing you guys have ever gotten up at 7.30 in the morning for."
He added: "Look at how beautifully they're rolling out that carpet. This is the kind of thing you only see in Hollywood – and every model home in America.
"When we're done with this we're going to be carpeting all of Hollywood."
The 95th annual Academy awards will take place at the Dolby Theatre in Los Angeles.
A slew of famous faces were added to the show's presenting line-up on Tuesday, including Hugh Grant, Florence Pugh, Nicole Kidman and Halle Berry.
Previously announced presenters include Riz Ahmed, Emily Blunt, Ariana DeBose, Samuel L Jackson, Michael B Jordan, Troy Kotsur, Jonathan Majors, Melissa McCarthy and Dwayne Johnson.