The Duchess of York said she "spoils" the corgis she and the Duke of York adopted following the death of the Queen in September.
Elizabeth II owned more than 30 corgis during her reign and was known for her love of the breed.
The late monarch received the two dogs, Muick and Sandy, as gifts from Andrew and have now been taken on by her son and his ex-wife Sarah.
She told Hello magazine: "The corgis are very nice and very polite and well trained.
"I am their favourite but everybody always says it's just because I feed them gravy bones. I love everything about them and I spoil them the most."
In early 2021, the Queen was given two new puppies, one dorgi and one corgi, as a gift by Andrew while staying at Windsor during lockdown.
The puppies kept the monarch entertained while the Duke of Edinburgh was in hospital – and Buckingham Palace and the royals were dealing with the fallout from the Sussexes' Oprah interview.
The Queen named the dorgi Fergus after her uncle – who was killed in action during the First World War, and the corgi Muick, pronounced Mick, after Loch Muick on the Balmoral estate.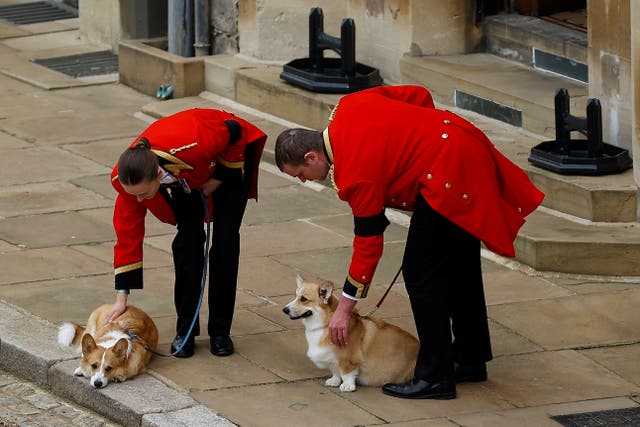 He was later replaced with a new corgi puppy, from Andrew and princesses Beatrice and Eugenie for her official 95th birthday, who the Queen named Sandy.
Sarah also spoke of her pride for daughters Princess Beatrice and Princess Eugenie – who is currently pregnant with her second child with husband Jack Brooksbank, following the birth of her son August.
She said: "She is phenomenal. She looks great and I'm really proud of her for managing to work as hard as she does at Hauser & Wirth.
"But I am also proud of her as a mother. She's very good with August. Everyone says 'How are you as a grandmother?'
"I say that I absolutely love being a grandmother but I'm so proud of my girls. We're a really strong, close-knit family."
The full interview can be read in Hello! magazine out on Monday.