Radio 1 host Arielle Free is to take on the longest set of her life as she will attempt to DJ live while cycling for 50 hours across five cities in five days to raise funds for Red Nose Day.
From Sunday, the early breakfast host will be taking to the streets of York, Leeds, Sheffield, Manchester and Liverpool, tackling a different city each day.
The Scottish broadcaster, 34, will undertake the challenge, dubbed Tour de Dance with Arielle Free, on a 10-person bike adapted with DJ decks and a giant Red Nose.
Along the way, she will be joined by Radio 1 listeners and some famous faces in each of the cities who will need to help her pedal to keep the music pumping.
On the first day, Free will join Radio 1 presenter Greg James for a special 'Tour de Dance For Red Nose Day' breakfast show to talk through the task she is about to embark on.
Free said: "I'm so nervous about the challenge, it's something I'd never considered before, and that's just the cycling shorts! It's going to be a huge mental and physical challenge peddling whilst mixing live, across five cities in one week.
"I have definitely had some funny looks in the gym whilst practising DJing on the bikes!
"Looking forward to raving and pedalling across the nation, if you see us cycling past, please show some support by dancing along! And please donate if you can!"
James added: "These challenges only work when the whole station and all the listeners get behind them so I'll be doing my very best to be the ringmaster back at base rallying everyone together to get Arielle over the finish line.
"She's incredibly tough but this will be her biggest challenge yet."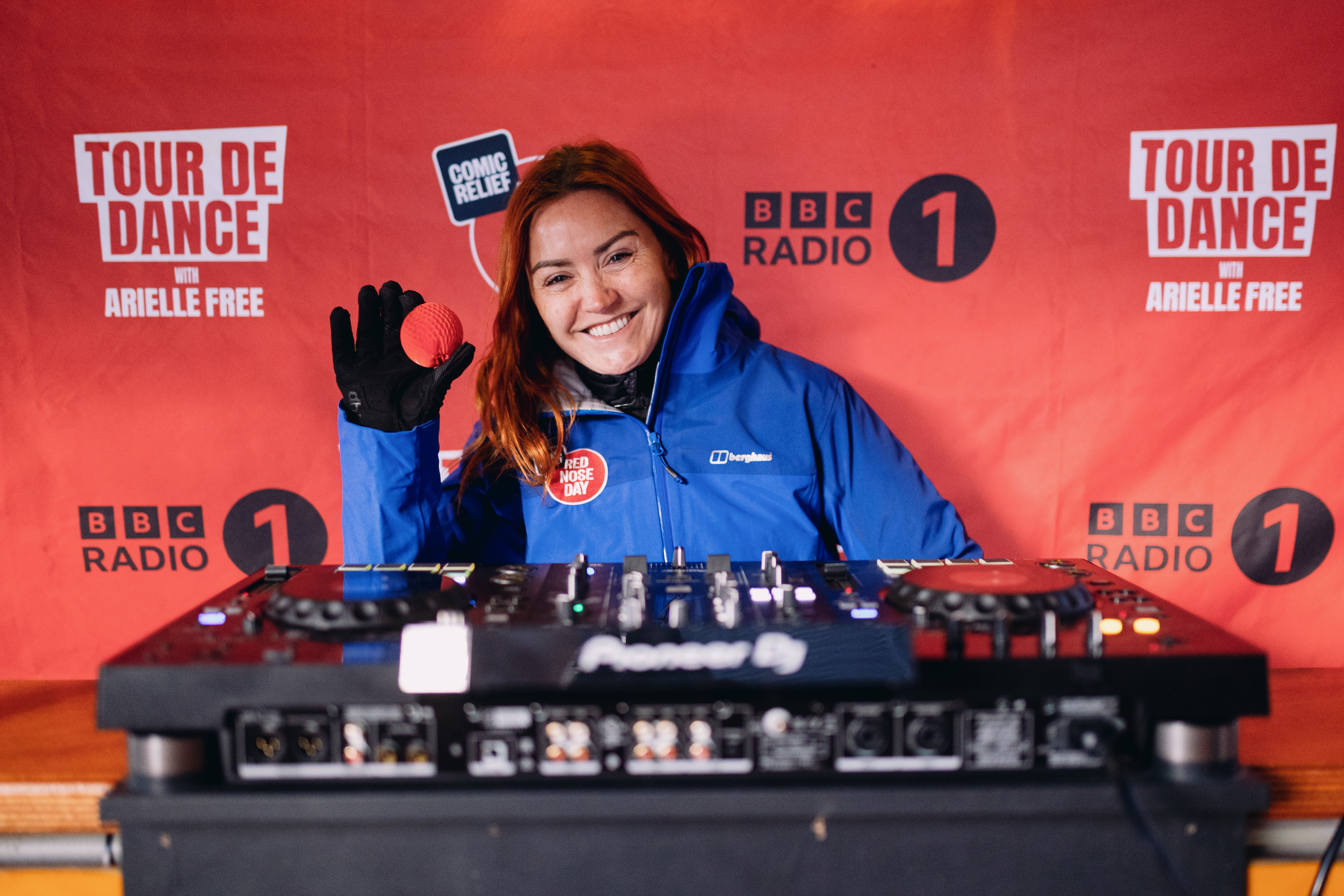 A portion of the money raised will also go towards the emergency response to the earthquake in Turkey and Syria.
Samir Patel, chief executive of Comic Relief, said: "We are incredibly excited to have the support of Arielle for this extraordinary challenge that only our friends at Radio 1 could imagine.
"The Tour de Dance with Arielle Free is a unique and exciting way to raise funds and we hope that Radio 1 listeners and people across the country get behind Arielle and help her through this huge challenge of a lifetime. Good luck Arielle."
The challenge will begin on Sunday, March 5, live on BBC Radio 1 and daily updates on Free's progress will be given during Vick Hope and Jordan North's show, which will be renamed for the challenge Tour de Dance For Red Nose Day and will be broadcast live from whichever city Free is cycling through.
Red Nose Day returns to BBC One on March 17 with hosts AJ Odudu, David Tennant, Joel Dommett, Paddy McGuinness and Zoe Ball.