Ed Sheeran has launched a hot sauce range called Tingly Ted's after making known his love of Heinz Tomato Ketchup.
The brand, named after Sheeran's childhood nickname, comes in two varieties – Tingly and Xtra Tingly – and is described as the perfect condiment for fries, nuggets, falafels, fried chicken or "any meal at all".
It will be go on sale worldwide later this year, with the price and UK stockists to be revealed at a later date.
Sheeran has a Heinz Tomato Ketchup tattoo on his arm and has previously appeared in an ad in which he douses his meal at a high-end restaurant with the sauce.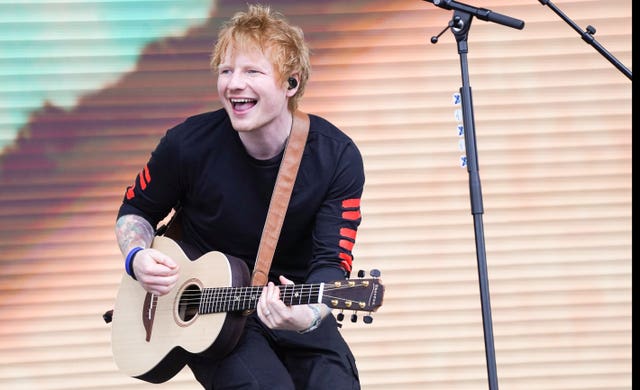 "I travel a lot, so having a bottle in my suitcase wherever I go that can spice up any and every meal seemed like a good idea.
"I knew I didn't want to do a watery hot sauce, as they usually all get relegated to the same shelf of other random hot sauces. I wanted to make a sauce that took the same pride of place as ketchup.
"I had a year of whittling down the perfect flavours with a great mixing team, and we settled on two absolute belters, the Tingly and the Xtra Tingly. I've had them on tour with me recently to try them with all sorts of meals, and there really isn't anything they don't go with (except bananas, don't do that).
"I'm so excited to bring this product out, it's genuinely something I use every day on all three meals."
Cristina Kenz, chief growth and sustainability officer at Kraft Heinz International, said: "Insight-led innovation and smart collaborations like this one are fuelling growth at Kraft Heinz, which is why, when Ed told us he wanted to make the 'ketchup of hot sauces', we jumped at the chance to make it happen.
"We both wanted a delicious hot sauce that could go from morning eggs to late night snacks, and everything in between. It didn't exist before.
"Ed's vision, combined with our size, capability and sauce know-how, felt like the perfect recipe."
Tingly Ted's is described as having fresh lemon notes and a smoky flavour that makes the red jalapeno and capsicum chillies "sing", along with a mix of herbs and spices "that all infuse together to create a party in your mouth".
The sauce is suitable for vegans and has no added colours, artificial flavours or preservatives.
Consumers can pre-order a bottle at www.tinglyteds.com or www.instagram.com/tinglyteds.