Jenny Beavan says comments made about her outfit at the 2016 Bafta awards ceremony gave her an "understanding of what film stars go through".
The three-time Oscar-winning costume designer said the remarks by actor and comedian Stephen Fry were "absolutely fine" and had done her nothing but good.
At the ceremony, Beavan collected the award for best costume design for her work on Mad Max: Fury Road, wearing a casual leather jacket and a scarf.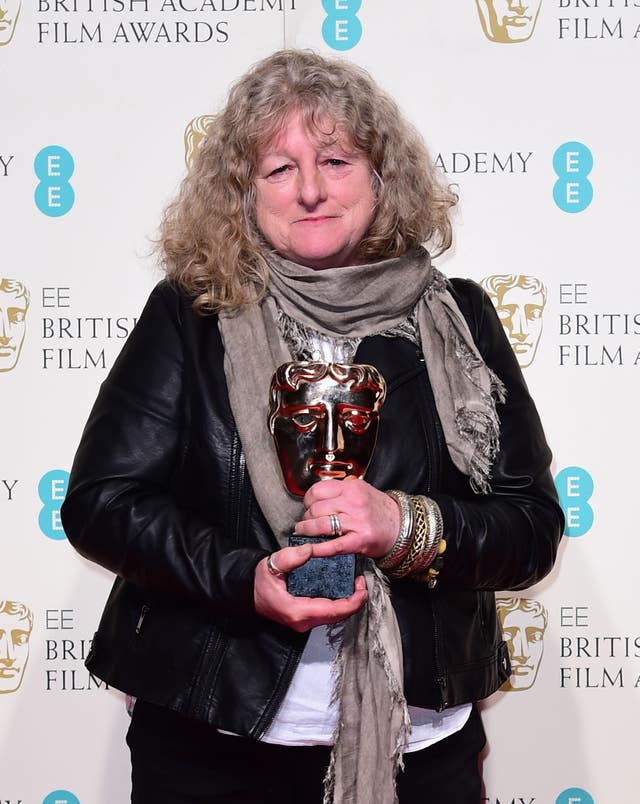 Speaking on BBC Radio 4's Desert Island Discs, Beavan discussed her childhood, how she was brought up in a happy and musical family as well as her unlikely friendship with Joe Lycett, who briefly stayed with her and her daughter.
Asked about Fry's Bafta comment, which prompted a series of tabloid headlines, she replied: "I didn't hear it, because I was already backstage and I love Stephen.
"And I love the fact he said that, of course I had my shirt tails hanging out – I thought it was just an absolutely fine thing to say. I didn't think it took me anything but good, really."
"It died down very quickly though, it was all fine."
Beavan revealed that at one point there had even been a journalist hiding in her hedge, who had jumped out to corner her.
On her own fashion choices, she has said previously: "I love dressing others and I know how to make them look beautiful on screen, but I've never wanted that kind of look for myself."
The designer has won three best costume design Oscars; in 1987 for A Room With A View, in 2016 for Mad Max: Fury Road, and in 2022 for Disney's Cruella – starring Emma Stone.
She is nominated for a fourth time this year for the same award for her work on Mrs Harris Goes To Paris.
"I just said 'so long as you're not in too much pain we are so grateful', because it actually gave us another six weeks and we'd been going such a speed that we just kept the thing up," she said.
"That really, really helped I think put a lot of the detail in what would have been a bit tricky otherwise."
Desert Island Discs airs on Sunday on BBC Sounds and BBC Radio 4, at 11.15am.