The UK may struggle to win big at Sunday's Bafta film awards, with more chance of success in categories for achievement behind the camera.
British talent makes up only five of the 24 acting nominations, one of the lowest proportions on record.
They include Emma Thompson for best actress (Good Luck to You, Leo Grande) and Bill Nighy for best actor (Living).
By contrast, Ireland is particularly well-represented and makes up a quarter of all 24 acting nominations, with nods for Kerry Condon, Colin Farrell, Brendan Gleeson and Barry Keoghan (The Banshees Of Inisherin) plus Daryl McCormack (Good Luck To You, Leo Grande) and Paul Mescal (Aftersun).
Success for both the UK and Ireland may come in the shape of the film-maker Martin McDonagh, who has joint British-Irish nationality and who has been nominated for best director and best original screenplay for The Banshees of Inisherin.
Two veterans of the UK film industry have been nominated in the technical categories: Sir Roger Deakins, for best cinematography (Empire of Light), and Jenny Beavan, for best costume design (Mrs Harris Goes to Paris).
This is Sir Roger's 11th Bafta nomination for cinematography, his first coming in 1997 for Fargo, and he has won the award five times – most recently in 2020 for the film 1917.
Jenny Beavan has been nominated for a Bafta 10 times, with her first coming in 1985 for The Bostonians, and has won four times, including last year for the film Cruella.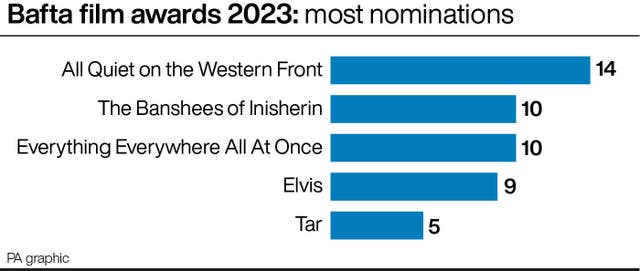 The UK has a strong showing in the category for best adapted screenplay, with nods for Sir Kazuo Ishiguro (Living), Rebecca Lenkiewicz (She Said) and Ian Stokell, who is jointly nominated for his work on All Quiet on the Western Front.
There are also nods for British talent in three of the five films up for best make-up & hair and four of the five films in the running for best sound.
The Bafta film awards are being shown on BBC One on Sunday from 7pm.