A freezer which forms part of an artwork by Banksy in Kent has been removed for a second time.
The mural, titled Valentine's Day Mascara, had seen its chest freezer, broken garden chair, blue crate and empty beer bottle taken away by a local council in Margate on Tuesday.
All the pieces were subsequently returned by Thanet District Council, who said on Wednesday it was in contact with the property owner to discuss ways to preserve the piece.
On Thursday, the Red Eight Gallery in London said the freezer was now in storage with permission from the homeowner, before a permanent home can be found for the entire work.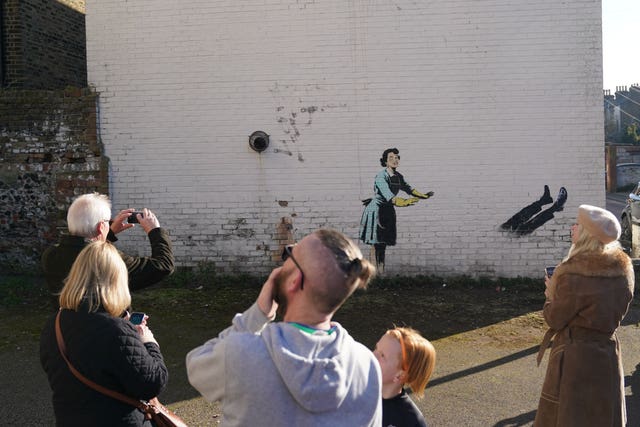 "We are in conversation with civil engineers and building contractors regarding the safe removal of the piece.
"Regarding the freezer the council removed it to make it safe and we have protected the wall with a Perspex cover.
"The freezer has been returned by the council and is currently in storage for safe keeping until it can be reunited with the art once the wall has been removed."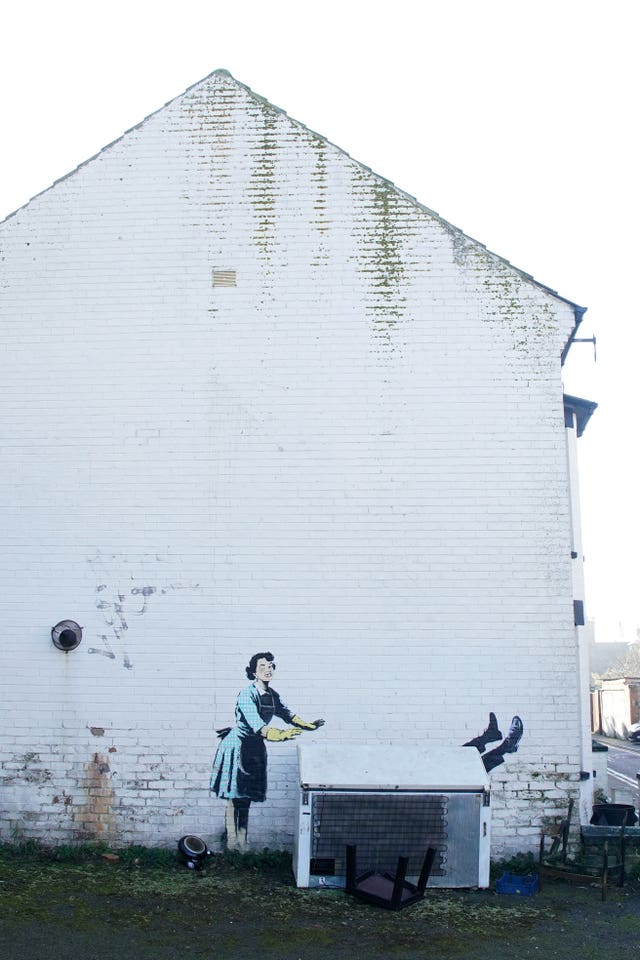 On Thursday, a domestic fridge-freezer was placed in front of the mural which appeared to be trying to replace the removed chest freezer as its door was also left open.
The piece shows a housewife in 1950s-style dress, wearing a pinny and yellow washing-up gloves.
She also has a swollen eye and a missing tooth and is seemingly closing the lid of a chest freezer on her male partner, whose legs are sticking out.
It appeared to have a theme of domestic abuse and fighting violence against women.
On Tuesday, Banksy confirmed they were behind the artwork by sharing a series of photos of the piece to their Instagram account.
The homeowners also said: "We were not, in our wildest dreams expecting this. Without the support and quick actions of Red Eight Gallery, we have no doubt the artwork would not still be intact.
"We'll do our best to respect the major parties involved but our key focus is raising the awareness of domestic abuse against women."
Mr Usher also said the Turner Contemporary gallery in Margate has no plans to display the piece after being contacted by the owner.
A spokesperson for Thanet District Council said officers removed the freezer for health and safety reasons.
They added: "This included decommissioning the freezer to remove the gas and also ensuring that members of the public could not become trapped inside it.
"Since we returned the freezer, a gallery representative (acting on behalf of the property's owner) has taken it away into safe storage.
"Banksy raises the important issue of domestic abuse in this artwork.
"We are in touch with the owner of the property to understand their intentions around the preservation of the piece and to secure the best possible outcome for the local community and victims of domestic abuse."