The mastermind behind the hit TV show Call The Midwife claimed getting an OBE honours her working-class family but said she was "choked" it came with a citation signed by the late Queen.
Heidi Thomas, 60, the writer, creator and executive producer behind the show, collected her honour for services to drama from the King at a ceremony at Windsor Castle.
She said: "People in showbusiness are very fond of giving each other awards and prizes but to be honoured as a citizen is a really lovely and straightforward thing.
"Receiving an honour here today, this actually honours all of my family and all of my heritage.
"Call The Midwife, which is my biggest project, I love in my writing to know the lives of ordinary people whose stories might not otherwise be told.
"Much of my work is based on real-life cases."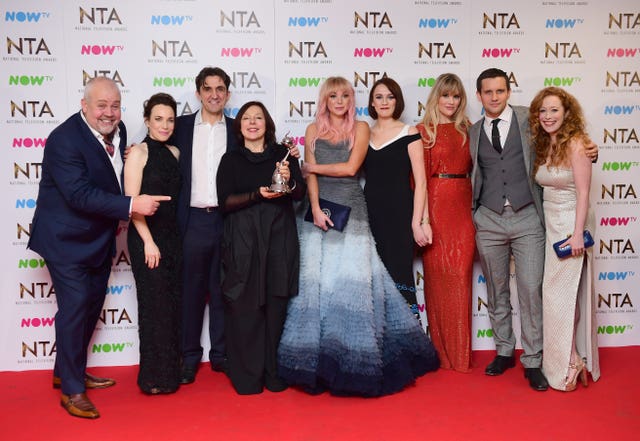 The show is loosely based on the best-selling memoirs of former nurse and midwife Jennifer Worth.
She died in 2011, the year before the first series was broadcast.
It follows a group of midwives working in London's East End of London from the late 1950s as they cope with the pressures of their everyday lives as well as the changing times.
It will now be on air until 2026.
Ms Thomas was born and raised in Liverpool, where she also attended university.
She started her career as a writer in theatre with plays such as Shamrocks And Crocodiles, which won her the John Whiting Award in 1985.
She was accompanied at the ceremony by her actor husband Stephen McGann who plays the GP in Call The Midwife.
The 12th season of Call The Midwife returned on New Year's Day and has explored topics such as domestic abuse, mental health problems and racism.
The 2022 Christmas special was the fourth most-watched festive programme on December 25 after the King's Speech, Strictly Come Dancing's Christmas Special and Michael McIntyre's Christmas Wheel.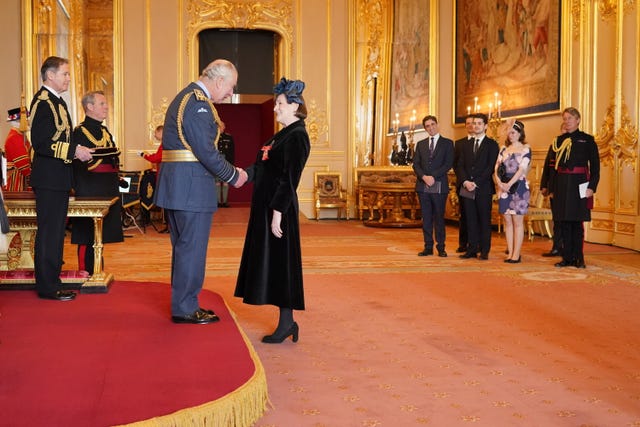 "These communities are teeming with social, political and women's history.
"I felt very strongly when the BBC offered us the opportunity to continue that I wanted to continue because there are untold stories to be revealed."
She enjoys working in TV because you "get to tell very intimate stories" and are able to "get up close and personal with people".
"I think over time I have become more invested in the material simply because every year I find out something that makes me angry, or that moves me or illuminates me."
Her TV career, including writing on series such as Soldier, Soldier and Doctor Finlay, came after working in the theatre.
Other screenwriting credits include Lilies, based on her grandmother's recollections, and adaptations of classic novels including Elizabeth Gaskell's Cranford, Noel Streatfeild's Ballet Shoes and Louisa May Alcott's Little Women.
Of her big day at Windsor Castle, she added: "I come from an ordinary working-class/lower-middle class Liverpool family.
"They all had shops but everybody was very aspirational.
"It think they would all be very pleased for me but they would think that this is all from everybody's hard work that gets the next generation to a place where their work might be acknowledged.
"On a day like today you are very conscious of where you come from and where you fit into the scheme of things.
"I was also very touched because my honour came through during the Platinum Jubilee honours.
"I took me by surprise and it did choke me a little bit when I got my citation through just before Christmas and it was signed by the Queen, obviously before she passed away.
"It really moved me and I did have a little sniffle actually because the landscape feels like it has changed a little since we lost the Queen and I was so pleased to receive my honour from the King today.
"It all just makes you so aware of how time passes in our personal lives and in the public world.
"It has been quite a momentous year and I was very very touched to realise Her Majesty had signed that citation because she isn't around to do any more."